Paths to Adventure: The Adamant Keeps
AAW Games
---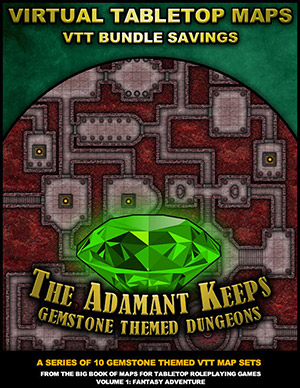 This product is part of a bundle. Complete the set and save on all bundled products you don't already own and all future additions to the bundle.
PATH TO ADVENTURE MAP BUNDLE
Paths to Adventure: The Adamant Keeps Map Pack
This collection of custom maps is built for the Fantasy Grounds virtual tabletop and includes 10 incredible maps related to The Adamant Keeps for use in your campaign. Both GM and Player maps are included.
The Adamant Keeps: Gemstone Themed Dungeons map pack is one of an eight-part collection by Paths to Adventure cartography, usable in any game system.
You will find the following maps in this pack:
MAP 008: The Emerald Keep
MAP 024: The Ruby Keep
MAP 035: The Diamond Keep
MAP 044: The Citrine Keep
MAP 047: The Amethyst Keep
MAP 055: The Quicksilver Keep
MAP 065: The Aurum Keep
MAP 144: The Turquoise Keep
MAP 164: Bastion of the Alexandrite Empress
MAP 169: The Alabasterstar Keep
Cartography by: Justin Andrew Mason
Adapted for Fantasy Grounds by: Trevor Armstrong
Requires: An active subscription or a one time purchase of a Fantasy Grounds Full or Ultimate license and any ruleset. Compatible with Fantasy Grounds Unity or Fantasy Grounds Classic
Screenshots may differ from what you see in-game based on the extension and ruleset you have loaded and if you are running Fantasy Grounds or Fantasy Grounds Unity.
Owned by AAW Games. copyright (C) 2021. All Rights Reserved. Used with permission.
Released on June 12, 2018
Designed for Fantasy Grounds version 3.3.5 and higher.
Screenshots
AAWFGPTAMP7