Paths to Adventure: Dwarven Kingdom
AAW Games
---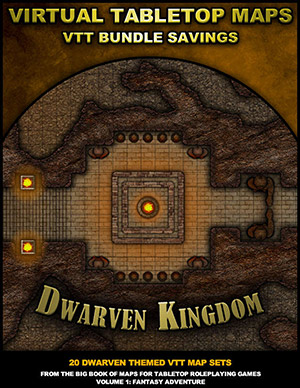 This product is part of a bundle. Complete the set and save on all bundled products you don't already own and all future additions to the bundle.
PATH TO ADVENTURE MAP BUNDLE
Paths to Adventure: Dwarven Kingdom Map Pack
This collection of maps custom is built for the Fantasy Grounds virtual tabletop and includes 20 incredible maps related to Dwarven Kingdoms for use in your campaign. Both GM and Player maps are included.
The Dwarven Kingdom map pack is one of an eight-part collection by Paths to Adventure cartography, usable in any game system.
You will find the following maps in this pack:
MAP 023: Something Lurks in the Mythril Mines
MAP 039: Navigating the Water Tunnels
MAP 045: Ruins of the Lost City
MAP 078: Entrance to the Mountain Hall
MAP 091: Underworld Mega-Dungeon #3
MAP 117: Vaki of the Mountain Tomb
MAP 119: Kaz Mordin Heart of the Mountain
MAP 126: Crypt of the Dwarven Lords
MAP 133: Cult of the Undines
MAP 139: Underhill
MAP 140: The Halls of Atonement
MAP 142: Stonekeep Falls
MAP 151: Bunker at Skull Mountain
MAP 161: Dwarven Hold of Mountain Pass
MAP 168: The Dwarf Kings Stash
MAP 194: Dwarven Mines
MAP 197: Crypt Cavern
MAP 205: Temple of the Underdome
MAP 221: The Cathedral of Unity
MAP 224: Underworld Mega-Dungeon 7
Cartography by: Justin Andrew Mason
Adapted for Fantasy Grounds by: Trevor Armstrong
Requires: An active subscription or a one time purchase of a Fantasy Grounds Full or Ultimate license and any ruleset. Compatible with Fantasy Grounds Unity or Fantasy Grounds Classic
Screenshots may differ from what you see in-game based on the extension and ruleset you have loaded and if you are running Fantasy Grounds or Fantasy Grounds Unity.
Owned by AAW Games. copyright (C) 2021. All Rights Reserved. Used with permission.
Released on May 23, 2018
Designed for Fantasy Grounds version 3.3.5 and higher.
Screenshots
AAWFGPTAMP3