Paths to Adventure: Taverns and Storefronts
AAW Games
---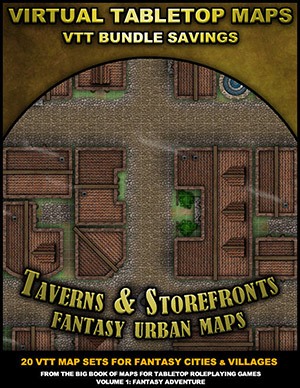 This product is part of a bundle. Complete the set and save on all bundled products you don't already own and all future additions to the bundle.
PATH TO ADVENTURE MAP BUNDLE
Paths to Adventure: Taverns and Storefronts Map Pack
This collection of maps custom is built for the Fantasy Grounds virtual tabletop and includes 20 incredible maps related to Taverns and Storefronts for use in your campaign. Both GM and Player maps are included.
The Taverns and Storefronts map pack is one of an eight-part collection by Paths to Adventure cartography, usable in any game system.
You will find the following maps in this pack:
MAP 005: City Streets

MAP 052: The Smuggler's Ship

MAP 062: The Shackled Shrew Tavern

MAP 064: Seedy Tavern Magic Shop and Blacksmith

MAP 066: City Bakery and Simple Inn

MAP 068: Bath House Library Well Shed and Cellar

MAP 074: Church with Bell Tower and Village Stables

MAP 077: Hovel, Abodes, City Latrine and Outhouses

MAP 079: Planned City Domicile Complex

MAP 081: Bank General Store and Sheriff's Office with Jail and Gallows

MAP 083: Corner Pub Museum and Indoor Bazaar

MAP 087: Guard Garrison at the City Gate and Shanty Town Shacks

MAP 089: Theatre with Balcony and Town Courthouse

MAP 092: City Infirmary, Pawn Shop, Potters Shop and Kiln

MAP 095: Fletcher, Archery Range, Herbalist, Apothecary, Docks and Warehouse

MAP 097: Grain Bin and Windmill

MAP 099: Jeweler Shop Merchant Kiosks and Small City Park

MAP 170: Abandoned Haunted House

MAP 171: Walled Trading Post

MAP 218: Mysterious Mansion of Secrets
Cartography by: Justin Andrew Mason
Conversion by: Trevor Armstrong
Requires: An active subscription or a one time purchase of a Fantasy Grounds Full or Ultimate license and any ruleset.

Owned by AAW Games. copyright (C) 2018. All Rights Reserved. Used with permission.
Released on June 12, 2018
Designed for Fantasy Grounds version 3.3.5 and higher.
Screenshots
AAWFGPTAMP6