Paths to Adventure: Caves and Caverns
AAW Games
---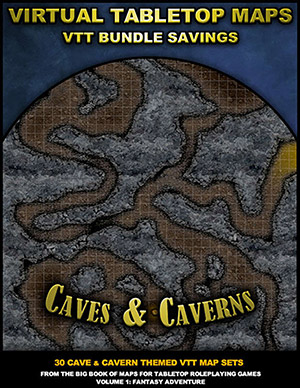 This product is part of a bundle. Complete the set and save on all bundled products you don't already own and all future additions to the bundle.
PATH TO ADVENTURE MAP BUNDLE
Paths to Adventure: Caves and Caverns Map Pack
This collection of maps custom is built for the Fantasy Grounds virtual tabletop and includes 30 incredible maps related to Caves and Caverns for use in your campaign. Both GM and Player maps are included.
The Caves and Caverns map pack is one of an eight-part collection by Paths to Adventure cartography, usable in any game system.
You will find the following maps in this pack:
MAP 002: Simple Cavern
MAP 009: Shrine to the Umber God
MAP 016: Sacrosanct Crossing
MAP 040: Slimy Caverns
MAP 051: Vorpal Caverns
MAP 054: Dragons Lair
MAP 076: Flooded Troglodyte Cave
MAP 078: Entrance to the Mountain Hall
MAP 086: Subterranean Waterfall
MAP 094: The Mystery of Mountainscar
MAP 101: The Cave of Constellations
MAP 103: Village of the Frog People
MAP 112: Blighted Druid's Grotto
MAP 122: Somethings Beneath this Castle
MAP 125: Underworld Mega-Dungeon 4
MAP 131: The Lava Shrine
MAP 139: Underhill
MAP 147: Dragonglass Caverns
MAP 152: Where the Frightful Things Lurk
MAP 159: Ice Caverns of the Yeti
MAP 163: The Grotto Entrance
MAP 176: The Primordial Source
MAP 189: Den of the Demodogs
MAP 192: Subterranean Shrine
MAP 198: Pirates Cove
MAP 203: Winding Tunnels
MAP 207: Hermits Island
MAP 223: Underworld Mega-Dungeon 6
MAP 227: Underworld Mega-Dungeon 10
MAP 228: Fossilized Hydra Caverns
Cartography by: Justin Andrew Mason
Adapted for Fantasy Grounds by: Trevor Armstrong
Requires: An active subscription or a one time purchase of a Fantasy Grounds Full or Ultimate license and any ruleset. Compatible with Fantasy Grounds Unity or Fantasy Grounds Classic
Screenshots may differ from what you see in-game based on the extension and ruleset you have loaded and if you are running Fantasy Grounds or Fantasy Grounds Unity.
Owned by AAW Games. copyright (C) 2021. All Rights Reserved. Used with permission.
Released on May 23, 2018
Designed for Fantasy Grounds version 3.3.5 and higher.
Screenshots
AAWFGPTAMP2