Paths to Adventure: Castles and Strongholds
AAW Games
---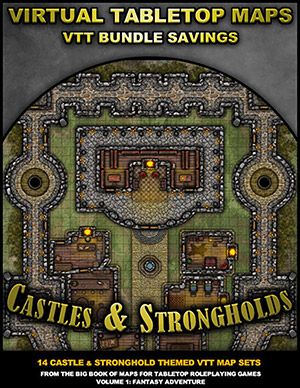 This product is part of a bundle. Complete the set and save on all bundled products you don't already own and all future additions to the bundle.
PATH TO ADVENTURE MAP BUNDLE
Paths to Adventure: Castles and Strongholds Map Pack
This collection of maps custom is built for the Fantasy Grounds virtual tabletop and includes 14 incredible maps related to Castles and Strongholds for use in your campaign. Both GM and Player maps are included.
The Castles and Strongholds map pack is one of an eight-part collection by Paths to Adventure cartography, usable in any game system.
You will find the following maps in this pack:
MAP 019: Paladin Stronghold
MAP 029: Blackstone Keep
MAP 049: Priory of Illumina
MAP 057: The Stone Tower
MAP 107: The Abbot's Isle
MAP 115: Winterkeep
MAP 165: The Wizards' Tower
MAP 166: Temple of the Valley
MAP 171: Walled Trading Post
MAP 185: The Shepherd's Haven
MAP 210: Castle Stronghold
MAP 212: Modular Castle
MAP 214: Ruined Tower of Gax
MAP 220: Siege of Tristone Tower
Published by:AAW Games
Cartography by: Justin Andrew Mason
Conversion by: Trevor Armstrong
Works with all rulesets.
Requires: A Fantasy Grounds full or ultimate license or an active subscription and any ruleset.
Owned by AAW Games. Used with Permission. All Rights Reserved.
Fantasy Grounds is a trademark of SmiteWorks USA LLC. (C) 2018 SmiteWorks USA LLC. ALL RIGHTS RESERVED.
Released on May 23, 2018
Designed for Fantasy Grounds version 3.3.5 and higher.
Screenshots
AAWFGPTAMP1