The Last Parsec: Scientorium
Pinnacle Entertainment Group
---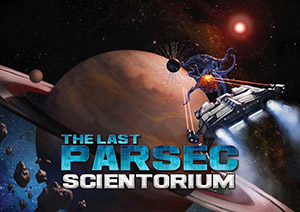 The Last Parsec: Scientorium
Lost technological treasures and knowledge beyond understanding...
Hidden away by sheer distance and forever shrouded from the minds of the curious lies a mammoth artifact from the previous galactic age, the library of Scientorium. Its strange experience chambers offer passage to a million histories on a million worlds, secrets and technologies undreamed of. Now abandoned by all but its automated security systems and enigmatic caretakers, its workings are oddly twisted and jealous, meting out reward and punishment in equal measure.
Scientorium is a setting book for The Last Parsec. It contains new locations and characters for the epic journey to find Scientorium, new Setting Rules for the library's many wonders, a Plot Point Campaign, Savage Tales, and detailed insight into the world of the reclusive Librarians.
This book requires the Savage Worlds core rules and the Savage Worlds Science Fiction Companion to play.
*** About The Last Parsec ***
Faster-than-light travel has finally allowed humanity to spread beyond its lonely corner of the Milky Way. In the depths of space these explorers found millions of star systems, strange planets, and exotic alien races. Centuries later, they form the Known Worlds, a vital region of trade and technology where empires grow and business thrives.
It is an unparalleled age. Cutting edge science has opened limitless frontiers of space and consciousness, and has even begun to hint at the mysteries of the universe itself. But to find them, one must travel beyond the familiar, to the last parsecs of reality.
The Last Parsec is a science fiction roleplaying game of exploration and adventure. It requires the Savage Worlds core rules and the Savage Worlds Science Fiction Companion to play.
Converted by:  Aki Heikkinen
Requires:An active subscription or a one time purchase of a Fantasy Grounds Full or Ultimate license and a one time purchase of the Savage Worlds ruleset.
Some content Copyright (c) 2018 Pinnacle Entertainment. ALL RIGHTS RESERVED.
Released on December 21, 2018
Designed for Fantasy Grounds version 3.3.7 and higher.
Screenshots
S2P10903FGPEGSW