The Last Parsec: Eris Beta-V (Savage Worlds)
Pinnacle Entertainment Group
---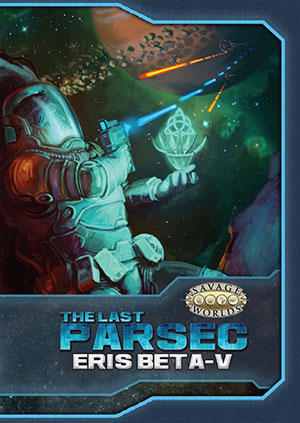 The Last Parsec: Eris Beta-V
When Eris Beta-V's valuable commerce is threatened by unscrupulous agencies, a JumpCorp-employed team must root them out.
As they do, they'll explore a magnificent ringed gas giant and its moons on the icy fringes of interstellar space, discover ancient artifacts of enormous power among Eris' rings, moons, and asteroids, and solve the oldest mystery of Eris Beta-V...before time runs out.
Eris Beta-V is a setting book for The Last Parsec. It contains new locations and characters for the planetary system, new starships and Setting Rules for asteroid mining and ringstorms, a Plot Point Campaign, Savage Tales, and a host of new creatures from these strange worlds.
This book requires the Savage Worlds core rules and the Savage Worlds Science Fiction Companion to play.
*** About The Last Parsec ***
Faster-than-light travel has finally allowed humanity to spread beyond its lonely corner of the Milky Way. In the depths of space these explorers found millions of star systems, strange planets, and exotic alien races. Centuries later, they form the Known Worlds, a vital region of trade and technology where empires grow and business thrives.
It is an unparalleled age. Cutting edge science has opened limitless frontiers of space and consciousness, and has even begun to hint at the mysteries of the universe itself. But to find them, one must travel beyond the familiar, to the last parsecs of reality.
This Primer paves the way for an expanded core book to come!
The Last Parsec is a science fiction roleplaying game of exploration and adventure. It requires the Savage Worlds core rules and the Savage Worlds Science Fiction Companion to play.
Requires: An active subscription or a one time purchase of a Fantasy Grounds Full or Ultimate license and the Savage Worlds Ruleset as well as the Science Fiction Companion.
Savage Worlds, artwork, logos, and the Pinnacle logo are © 2017 Great White Games, LLC; DBA Pinnacle Entertainment Group. Savage Worlds, all associated characters, logos, and artwork are Copyrights of Pinnacle Entertainment Group.
Fantasy Grounds is a trademark of SmiteWorks USA LLC. © 2017 SmiteWorks USA LLC. ALL RIGHTS RESERVED.
Released on March 07, 2017
Designed for Fantasy Grounds version 3.2.2 and higher.
Screenshots
PEGFGSWTLPEBV