Token Pack 95: Humanoid Monsters 2
Devin Night
---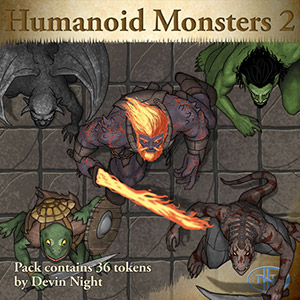 This product is part of a bundle. Complete the set and save on all bundled products you don't already own and all future additions to the bundle.
Devin Night Token Bundle Set 3
Token Pack 94: Humanoid Monsters 2
More Humanoid monsters.
This Token Pack includes:
Bullywug
Bullywug Elite
Bullywug Fighter
Bullywug Fisher
Bullywug
Bullywug Captain
Cyclops
Cyclops of War
Dragon Ogre
Flying Lizard Man
Gargoyle
Gargoyle Mechanoid
Gargoyle Runed
2 Giants, Cloud
Female, Giant Cloud
Giant, Fire Champion
Giant, Frost Champion
Iron Gargoyle
5 Lizardmen
2 Mancubus
2 Mancubus Brute
Minotaur Rager
Minotaur Slasher
Red Cap
2 Trolls
Splotchcap
Werewolf, Armored
Wolfen Monk
Requires: An active subscription or a one time purchase of a Fantasy Grounds Full or Ultimate license and any ruleset.
Some artwork copyright © 2017 Devin Night. All Rights Reserved.
Fantasy Grounds is a trademark of SmiteWorks USA LLC. © 2017 SmiteWorks USA LLC. ALL RIGHTS RESERVED.
Released on October 05, 2017
Designed for Fantasy Grounds version 3.2.2 and higher.
Screenshots
DNFGANYTPHM2