Token Pack 94: Deitys & Devils 2
Devin Night
---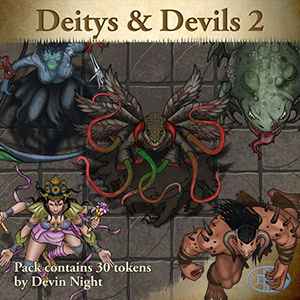 This product is part of a bundle. Complete the set and save on all bundled products you don't already own and all future additions to the bundle.
Devin Night Token Bundle Set 3
Token Pack 94: Deitys & Devils 2
More Angels, Demons, devils and immortals.
This Token Pack includes:
Angel, Conquest
Angel, Death
Angel, Despair
Angel, Famine
Angel, Fear
Angel, Glory
Angel, Ruin
Angel, War
Angel, Fallen Asmodeus
Angel, Zaphkiel
Dark Spirit
Death Goddess
Demon, 4 Armed Female
Demon, Champion Male
Demon, Frog
Demon, Grasshopper
Demon, Sorcerer Female
Demon, Dragon
5 Demonic Angels
Demonic Red Dragon
Fiendish Barbarian
Fiendish Barbarian, Axe
Fiendish Barbarian, Bow
Fiendish Barbarian, Winged
Hulking Demon
Nature Goddess
Requires: An active subscription or a one time purchase of a Fantasy Grounds Full or Ultimate license and any ruleset.
Some artwork copyright © 2017 Devin Night. All Rights Reserved.
Fantasy Grounds is a trademark of SmiteWorks USA LLC. © 2017 SmiteWorks USA LLC. ALL RIGHTS RESERVED.
Released on October 05, 2017
Designed for Fantasy Grounds version 3.2.2 and higher.
Screenshots
DNFGANYTPDD2