Greater Undead (Token Pack)
Devin Night
---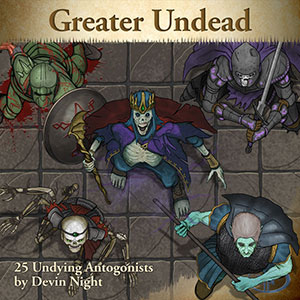 This product is part of a bundle. Complete the set and save on all bundled products you don't already own and all future additions to the bundle.
Devin Night Token Bundle Set 3
Greater Undead
This token pack contains 25 tokens. This pack contains A variety of undying antagonists.
This Token Pack includes:
2 Bloody Knights
Bloody Skeleton
Death Knight
Ektoplasmic Druid
Feral Undead
Ghost Gnome
Hell Mare
Lich Lord
Ogre Ektoplasm
Ogre Skeleton
Phantom Armor
Skeletal Captain
Skeletal Guard
Skeleton, Four Armed
Undead Guardian
Undead Leader
Undead Oracle
Vampire
Vampire Female
Blood Pool
Bone Golem
Cyclops Zombie
Flame Drake
Skull Catapult
Requires: An active subscription or a one time purchase of a Fantasy Grounds Full or Ultimate license and any ruleset.
Some artwork copyright © 2017 Devin Night. All Rights Reserved.
Fantasy Grounds is a trademark of SmiteWorks USA LLC. © 2017 SmiteWorks USA LLC. ALL RIGHTS RESERVED.
Released on April 02, 2017
Designed for Fantasy Grounds version 3.2.2 and higher.
Screenshots
DNFGANYNTPGU