Animals 2 (Token Pack)
Devin Night
---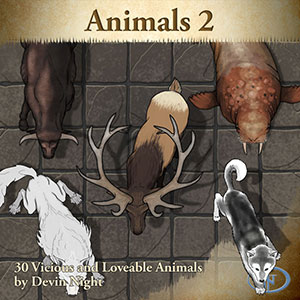 This product is part of a bundle. Complete the set and save on all bundled products you don't already own and all future additions to the bundle.
Devin Night Token Bundle Set 3
Animals 2
This token pack contains 30 tokens. This pack contains A variety of animals, from cute to deadly.
This Token Pack includes:
Bear
Bird
Bull
Celestial Deer
Chicken
Deer
Dire Bear
Dog
Goat, 2 Headed
Grizzly Bear
Horse
Huskie
Jackal
Jotun Auroch
2 Macaque Monkeys
Octopus
Owl
Pig
Raging Bull
Rhino
Rhinocerous
Royal Eagle
Skunk
Tiger
Turtle, Giant
Walrus
White Gecko
Winter Wolf
Whale Orca
Requires: An active subscription or a one time purchase of a Fantasy Grounds Full or Ultimate license and any ruleset.
Some artwork copyright © 2017 Devin Night. All Rights Reserved.
Fantasy Grounds is a trademark of SmiteWorks USA LLC. © 2017 SmiteWorks USA LLC. ALL RIGHTS RESERVED.
Released on April 09, 2017
Designed for Fantasy Grounds version 3.2.2 and higher.
Screenshots
DNFGANYNTPAN2