Paths to Adventure: Planar Excursions Map
AAW Games
---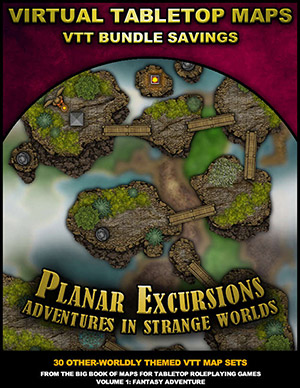 This product is part of a bundle. Complete the set and save on all bundled products you don't already own and all future additions to the bundle.
PATH TO ADVENTURE MAP BUNDLE
Paths to Adventure: Planar Excursions Map Pack
This collection of maps custom is built for the Fantasy Grounds virtual tabletop and includes 30 incredible maps related to Planar Excursions for use in your campaign. Both GM and Player maps are included.
The Planar Excursions: Strange Worlds map pack is one of an eight-part collection by Paths to Adventure cartography, usable in any game system.
You will find the following maps in this pack:
MAP 010: Lair of the Magma Lord

MAP 011: Neon Arcana

MAP 020: Den of the Beholders

MAP 025: Interplanar Astral Crossroads

MAP 037: Talon X Prime

MAP 038: The Labyrinth of Portals

MAP 056: The Cypher Source of Ley Lines

MAP 070: Domain of the Extradimensional Lords

MAP 085: Dwelling of the Daemon Lord

MAP 090: Airship Skydock

MAP 093: Aquarian Sanctuary

MAP 106: Legend of Future Past

MAP 110: Gates of the Time Lords

MAP 113: Hall of Memories Hivemind of the Progenitors

MAP 114: Doorway to the Dreamworld

MAP 127: Seekers of the Star

MAP 134: Star Searcher Station

MAP 136: The Travelers Domain

MAP 137: The Great Seal

MAP 148: The Mana Engine

MAP 155: The Angelic Spheres Celestial Quest

MAP 173: Arrival of the Rift Walker

MAP 195: Vault of the Elements

MAP 196: The Way to Hel

MAP 199: Arcane Platform

MAP 202: Isles in the Sky

MAP 211: Interdimensional Craft

MAP 213: Planewalker Nexus

MAP 215: Hellscape Environment

MAP 219: Alien Hive Carapace
Cartography by: Justin Andrew Mason
Adapted for Fantasy Grounds by: Trevor Armstrong
Requires: An active subscription or a one time purchase of a Fantasy Grounds Full or Ultimate license and any ruleset. Compatible with Fantasy Grounds Unity or Fantasy Grounds Classic
Screenshots may differ from what you see in-game based on the extension and ruleset you have loaded and if you are running Fantasy Grounds or Fantasy Grounds Unity.
Owned by AAW Games. copyright (C) 2021. All Rights Reserved. Used with permission.
Released on May 30, 2018
Designed for Fantasy Grounds version 3.3.5 and higher.
Screenshots
AAWFGPTAMP5