D&D Adventurers League 09-01 Escape From Elturgard
Wizards of the Coast
---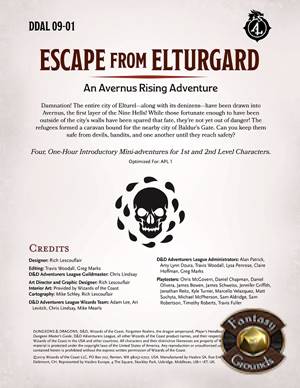 D&D Adventurers League 09-01 Escape From Elturgard
Damnation! The Companion that once stood as a beacon of hope and goodness above the city of Elturel has been extinguished and the entire city--along with its denizens--have been drawn into Avernus, the first layer of the Nine Hells! While those fortunate enough to have been outside of the city's walls during its departure have been spared that fate, but they're not yet out of danger! The refugees formed a caravan bound for the nearby city of Baldur's Gate. Can you keep them safe from devils, bandits, and one another until they reach safety?
Four One-Hour Mini-Adventures for 1st to 2nd Characters. Optimized for APL 1.
Converted by: Danny Stratton
Requires: An active subscription or a one time purchase of a Fantasy Grounds Full or Ultimate license and the included D&D fifth edition ruleset.
Recommended: D&D Basic Rules, D&D Player's Handbook or D&D Character Customization Pack, D&D Monster Manual
Dungeons & Dragons, its logo, and D&D, are trademarks of Wizards of the Coast LLC. Used with permission. All rights reserved.
Released on May 19, 2020
Designed for Fantasy Grounds version 3.3.7 and higher.
Screenshots
WOTC5EDDAL0901
Customers Who Bought This Item Also Bought