D&D Adventurers League 09-16 Honors Unforseen
Wizards of the Coast
---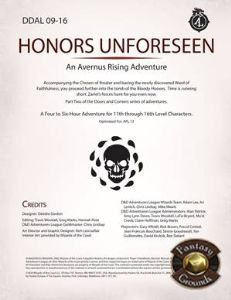 D&D Adventurers League 09-16 Honors Unforseen
Accompanying the Chosen of Ilmater and baring the newly discovered Ward of Faithfulness, you proceed further into the tomb of the Bloody Hooves. Time is running short. Zariel's forces hunt for you even now. Part Two of the Doors and Corners series of adventures.
A Four-to-Six-Hour Adventure for 11th through 16th Level Characters (APL 13).
Adapted for Fantasy Grounds by: Danny Stratton
Requires: An active subscription or a one time purchase of a Fantasy Grounds Full or Ultimate license and the included D&D fifth edition ruleset.
Recommended: D&D Basic Rules, D&D Player's Handbook or D&D Character Customization Pack, D&D Monster Manual
Dungeons & Dragons, its logo, and D&D, are trademarks of Wizards of the Coast LLC. Used with permission. All rights reserved.
Released on July 21, 2020
Designed for Fantasy Grounds version 3.3.7 and higher.
Screenshots
WOTC5EDDAL0916