D&D Classics: N1 Against the Cult of the Reptile God (2E)
Wizards of the Coast
---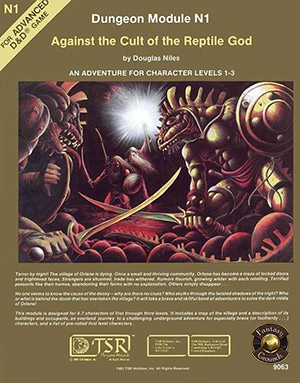 This product is part of a bundle. Complete the set and save on all bundled products you don't already own and all future additions to the bundle.
Dungeons & Dragons Classics Bundle
D&D Classics: N1 Against the Cult of the Reptile God (2E)
Terror by night! The village of Orlane is dying. Once a small and thriving community, Orlane has become a maze of locked doors and frightened faces. Strangers are shunned, trade has withered. Rumors flourish, growing wilder with each retelling. Terrified peasants flee their homes, abandoning their farms with no explanation. Others simply disappear. . .

No one seems to know the cause of the decay -- why are there no clues? Who skulks through the twisted shadows of the night? Who or what is behind the doom that has overtaken the village? It will take a brave and skillful band of adventurers to solve the dark riddle of Orlane!

This adventure is designed for 4 to 7 characters of 1st through 3rd levels. It includes a map of the village and a description of its buildings and occupants, an overland journey to a challenging underground adventure for especially brave (or foolhardy. . .) characters, and a list of pre-rolled 1st-level characters.
Product History
N1: "Against The Cult of the Reptile God" (1982), by Douglas Niles, is the first adventure in a novice-level series for Advanced Dungeons & Dragons. It was written in February 1982, so it was probably published in the first half of the year.
A Quick Creation. Niles was handed an old brief and told to write an adventure from it. He completed the task in just four weeks. Later he said that he wasn't sure if TSR had published the module because it was good or because he was able to write it so quickly.
Recurring Tropes. At first glance this adventure looks like it's built around the trope of a town home base with adventures nearby, as had previously been seen in T1: "The Village of Hommlet" (1979), in L1: "The Secret of Bone Hill" (1981), and (sort of) in U1: "The Sinister Secret of Saltmarsh" (1981). However, Niles takes a step beyond those simpler adventures and introduces cultists into the town, making the community itself (for the first time) into a true place for adventure as well. He also adds a few cultist-related events that will occur over time, which was quite unique in 1982; in the 70s, adventures had been almost entirely location-based.
Zeb Cook would take the next step with these trends with B6: "The Veiled Society" (1984).
The Previous Cult. Niles' brief came about as the result of a previous version of the adventure that was designed by Kevin Hendryx. This earlier version originated as a new encounter area for L1: "The Secret of Bone Hill" (1981), which Hendryx was then editing. Hendryx's additions were later removed from "Bone Hill" at Len Lakofka's request, so Hendryx decided to expand the encounter area into its own adventure, which became "Against the Cult of the Reptile God." Plans got far enough along that cover artwork was actually prepared by Bill Willingham, but then Hendryx became a victim of TSR's Great Purge of 1981. He decided to take his adventure with him to his next publisher, Metagaming Concepts.
The title and core concept of an evil cleric and lizard men minions remained, and that's the brief with which Niles started his work - and which also explains, at least partly, why TSR returned to the "town + adventure" trope that had been used in "Bone Hill" and "Saltmarsh" just the previous year.
Expanding Greyhawk. The town of Orlane and the adventure that surrounds it are very carefully (and meaningfully) set in Greyhawk. Not only does the module present an entire village near the Gran Marches, but it also carefully tracks the players' movement across the beautiful map of Greyhawk. By this point, the Greyhawk setting was increasingly becoming a campaign world belonging to TSR as a whole, not just Gary Gygax, and thus Niles' expansion of the world was less unusual than it would have been just a year earlier.
Future History. Dungeon #183(October 2010) revisits the final battle from N1 as an encounter for 4e.
About the Creators. Douglas Niles began work at TSR in January 1982 after leaving his teaching job. After a few weeks spent reviewing and critiquing external submissions, Niles convinced his boss to give him a design assignment. "Against the Cult of the Reptile God" was the result.
Converted by:  Mike Wilson
Requires:An active subscription or a one time purchase of a Fantasy Grounds Full or Ultimate license and the included 2E ruleset.
Dungeons & Dragons, Advanced Dungeons & Dragons its logo, and D&D, are trademarks of Wizards of the Coast LLC. Used with permission. All rights reserved.
Released on April 16, 2019
Designed for Fantasy Grounds version 3.3.7 and higher.
Screenshots
WOTC2EN1