D&D Classics: N1 Against the Cult of the Reptile God (2E)
Wizards of the Coast
---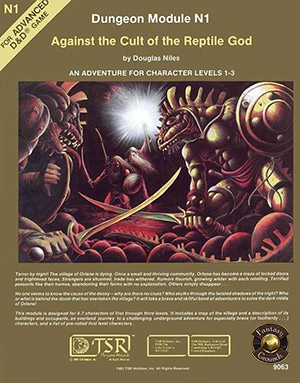 This product is part of a bundle. Complete the set and save on all bundled products you don't already own and all future additions to the bundle.
Dungeons & Dragons Classics Bundle
D&D Classics: N1 Against the Cult of the Reptile God (2E)
Terror by night! The village of Orlane is dying. Once a small and thriving community, Orlane has become a maze of locked doors and frightened faces. Strangers are shunned, trade has withered. Rumors flourish, growing wilder with each retelling. Terrified peasants flee their homes, abandoning their farms with no explanation. Others simply disappear. . .

No one seems to know the cause of the decay -- why are there no clues? Who skulks through the twisted shadows of the night? Who or what is behind the doom that has overtaken the village? It will take a brave and skillful band of adventurers to solve the dark riddle of Orlane!

This adventure is designed for 4 to 7 characters of 1st through 3rd levels. It includes a map of the village and a description of its buildings and occupants, an overland journey to a challenging underground adventure for especially brave (or foolhardy. . .) characters, and a list of pre-rolled 1st-level characters.
We (Wizards) recognize that some of the legacy content available on this website does not reflect the values of the Dungeons & Dragons franchise today. Some older content may reflect ethnic, racial, and gender prejudice that were commonplace in American society at that time. These depictions were wrong then and are wrong today. This content is presented as it was originally created, because to do otherwise would be the same as claiming these prejudices never existed. Dungeons & Dragons teaches that diversity is a strength, and we strive to make our D&D products as welcoming and inclusive as possible. This part of our work will never end.
Converted by:   Mike Wilson
Requires: An active subscription or a one time purchase of a Fantasy Grounds Full or Ultimate license and the included 2E ruleset.
Dungeons & Dragons, Advanced Dungeons & Dragons, their logos, Forgotten Realms, and D&D, are trademarks of Wizards of the Coast LLC. Used with permission. All rights reserved.
Released on April 16, 2019
Designed for Fantasy Grounds version 3.3.7 and higher.
Screenshots
WOTC2EN1
Customers Who Bought This Item Also Bought