Devin Night Token Pack 111: Aquatic Adventures
Devin Night
---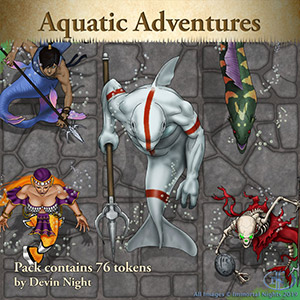 This product is part of a bundle. Complete the set and save on all bundled products you don't already own and all future additions to the bundle.
Devin Night Token Bundle Set 1
Devin Night Token Pack 111: Aquatic Adventures
This double sized pack contains 76 aquatic creatures and races found in a typical fantasy setting.
This product includes:
Animal, Giant Red Crab
Animalbster Rock
2 Drows, Deep Sea
Dwarf Fighter Male
Dwarf Fighter Female
4 Eels, Giant
Eye Stalker
2 Gnomes, Aquatic
Gypsie Aquatic
2 Hippocampus
2 Ice Elfs
2 Kailos
2 Karkarnaks
KoiMan
KoiWoman
Mermaid
Mermaid Knight
Mermaid Noble
2 Mermaid of War
Merman Youth
Merman Youth
3 Merman of War
Merwoman Adventurer
2 Moragens
2 Moraghs
Nixie Deep
Nixie Deep Male
Nommo Female
Nommo Male
2 Octoboys
Octogirl
Octoguy
2 Pisceans
Puffin Man
Puffin Woman
Sea Giant
Sea Shambler
2 Sea Skulls
Sea Elf Fighter
Sea Elf Magic User
Snail Man
Snail Woman
2 Sorcerer Shrimps
Sparan
Sparan Male
Tamphian Female Psion
Tamphian Male Guard
Tarasai Female
2 Tritons
2 Veridians
2 Volks
Walrusman
Walruswoman
White Whale Warrior
White Whale Wizard
Converted by:  James Holloway
Requires:An active subscription or a one time purchase of a Fantasy Grounds Full or Ultimate license and any ruleset.
Token pack artwork copyright (C) 2019 Devin Night. All Rights Reserved.
Released on June 11, 2019
Designed for Fantasy Grounds version 3.3.7 and higher.
Screenshots
DNTPANY111AA