Devin Night Token Pack #119: Sci-fi Characters
Devin Night
---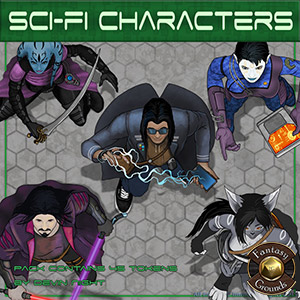 This product is part of a bundle. Complete the set and save on all bundled products you don't already own and all future additions to the bundle.
Devin Night Token Bundle Set 1
Devin Night Token Pack #119: Sci-fi Characters
This pack contains 45 characters for your Sci-fi game.
This product contains:
Female
Alien Ashe
Alien Duelist
Alien Sniper
Alien Warrior
Android Engineer
Android Mercenary
2 Catgirls
7 Catlike Fighter
4 Foxlike Fighter
Space Pilot
Human Duelist
Hybrid Mechanic
Hybrid Wolfen
Mouse Infiltrator
Mouse Soldier
Rabbit Tech
Racoon Gunslinger
2 Kangaroos
Male
Alien Fencer
3 Alien Heavy Lizards
Alien Mercenary
Alien Pilot
Alien Pirate
Alien Priest
Alien Researcher
Alien Adviser
Android Mercenary
2 Human Businessman
Human Dual Light-Blades
HUman Dual Sabers
Human Loner
Human Soldier
Human Stalker
Human Time Wizard
Human Veteran
Converted by:  James Holloway
Requires:An active subscription or a one time purchase of a Fantasy Grounds Full or Ultimate license and any ruleset.
Token pack artwork copyright (C) 2019 Devin Night. All Rights Reserved.
Released on October 15, 2019
Designed for Fantasy Grounds version 3.3.7 and higher.
Screenshots
DNFGANYTP119SFC