Devin Night Token Pack: Tome of Beasts 8: Sandman - Zmey +Appendix NPC's
Devin Night
---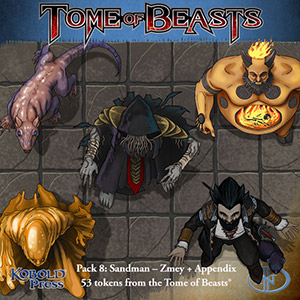 This product is part of a bundle. Complete the set and save on all bundled products you don't already own and all future additions to the bundle.
Devin Night Token Bundle Set 1
Devin Night Token Pack: Tome of Beasts 8: Sandman - Zmey +Appendix NPC's
The 8th pack in the series, 53 monsters from Kobold Press' Tome of Beasts.
This product includes:
Bandit Lord
Black Knight Commander
City Watch Captain
Devilbound Gnome Prince
Dwarven Ring Mage
Elvish Veteran Archer
Emerald Order Leader
Ghost Knight, Mounted
Ogre Chieftan
Scorpion Cultist
Vampire Warlock
Wolf Reaver Dwarf
Kobold Wizard
Sandman
Sandwyrm
Sap Demon
Sarcophagus Slime
Sathaq Worm
Tendril Puppet
Tophet
2 Tosculi
2 Treacle
Treant Weeping
Troll Lake
Trollkin Reaver
Tusked Skyfish
Uraeus
Urochar
Ushabti
Vaettir
Valkyrie
Vampire, Umbral
Vapor Lynx
Vesiculosa
Vila
Vile Barber
Vine Lord
Voidling
Wampus Cat
Water Leaper
Wharfling
White Ape
Witchlight
Wormhearted Suffragan
Xanka
Xhkarsh
Ychen Bannog
Zaratan
Zimwi
Zmey
Zmey Headling
Converted by:  James Holloway
Requires:An active subscription or a one time purchase of a Fantasy Grounds Full or Ultimate license and any ruleset.
Token pack artwork copyright (C) 2018 Devin Night. All Rights Reserved.
Released on January 22, 2019
Designed for Fantasy Grounds version 3.3.7 and higher.
Screenshots
DNFGANYTPTOB8