Tome of Beasts Pack 1 (Token Pack)
Devin Night
---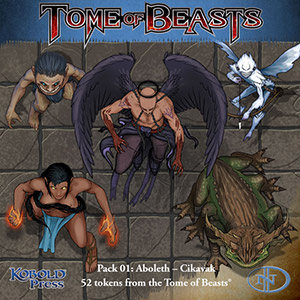 This product is part of a bundle. Complete the set and save on all bundled products you don't already own and all future additions to the bundle.
Devin Night Token Bundle Set 3
Tome of Beasts Pack 1
I am excited to release the first of 8 packs covering the 400 monsters that appear in Kobold Press' Tome of Beasts.
Pack 1 contains the first 52 creatures from Kobold Press' Tome of Beasts.
Created by Devin Night these tokens can be used to represent the monsters from the tome or stand in for any monster of similar appearance.
The pack contains 52 unique tokens and 18 variations on the Carrion Beetle.
The tokens are made with permission from Kobold Press.
This Token Pack includes:
Aboleth N
Accursed Defiler
Agonizing Beauty 2
Ala
Algorith
Alseid
Amphiptere
Andrenjinyi
Angatra
Angel, Chained
Angel, Fidele Female
Angel, Fidele Male
Angler Worm
aNialithic Zombie
Ant,Giant
Ant,Gient Queen
Anubian
Arboreal Grappler
Aridni
Asanbasam
Azza Gremlin
Baba Yaga Bright Dawn
Baba Yaga Dark Midnight
Baba Yaga Red Sun
Bagiennik
Bastet Temple Cat
2 Bear Folk
Behtu
Beli
Bereginyas
Blemmyes
Boloti
Bone Collective
Bone Crab
Bone Swarm
Boreas
Bouda
Broodiken
Bucca
Bukavac
Buraq
Burrowling
Cactid
Cambium
19 Carrion Beetle
Cavelight Moss
Chalacerae
Chernomoi
Child of Briar
Chronalmental
Cikavak
Requires: An active subscription or a one time purchase of a Fantasy Grounds Full or Ultimate license and any ruleset.
Some artwork copyright © 2017 Devin Night. All Rights Reserved.
Fantasy Grounds is a trademark of SmiteWorks USA LLC. © 2017 SmiteWorks USA LLC. ALL RIGHTS RESERVED.
Released on September 26, 2017
Designed for Fantasy Grounds version 3.2.2 and higher.
Screenshots
DNFGANYTPTOBP1