Devin Night Pack Tome of Beasts pack 7
Devin Night
---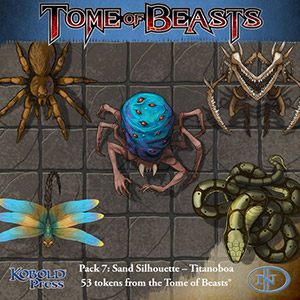 This product is part of a bundle. Complete the set and save on all bundled products you don't already own and all future additions to the bundle.
Devin Night Token Bundle Set 3
Devin Night Pack Tome of Beasts pack 7
The 7th pack in the series, 53 monsters from Kobold Press' Tome of Beasts.
This product includes:
Sand Silhouette
Savage
Scheznyki
Scorpion Night
Scorpion, Stygian Fat Tailed
Selang
Serpopard
Shabti
Shadhavar
Shadow Beast
Shellycoat
Shoggoth
Shroud
Skein Witch
Skeleton Sharkjaw
Skeleton Vinetroll
Skitterhaunt
Slow Storm
Snake Swamp Adder
Snake Zanskaran
Son of Fenris
Soul Eater
Spark
Spectral Guardian
Sphinx, Gypsosphinx
2 Spiders, Ghostwalk
Spider
Spider of Leng
Spider Red Banded
2 Spiders, Sand
Spider, Thief
Spire Walker
Star Spawn of Cthulu
Stryx
2 Stuhacs
Subek
Suturefly
Swarm, Fire Dancers
2 Swarms, Mana Bane
2 Swarms, Prismatic Beetle
2 Swarms, Sluagh
Swarm, Wolf Spirits
Temple Dog
Theullai
Titan, Ancient
Titan, Degenerate
Titanoboa
Converted by:  James Holloway
Requires:An active subscription or a one time purchase of a Fantasy Grounds Full or Ultimate license and any ruleset.
Token pack artwork copyright (C) 2018 Devin Night. All Rights Reserved.
Released on January 08, 2019
Designed for Fantasy Grounds version 3.3.7 and higher.
Screenshots
DNFGANYTPTOB7