Astral Antagonists (Token Pack)
Devin Night
---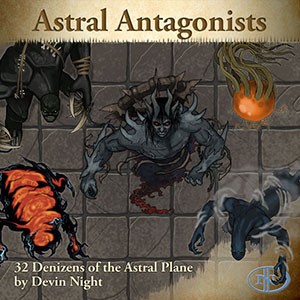 This product is part of a bundle. Complete the set and save on all bundled products you don't already own and all future additions to the bundle.
Devin Night Token Bundle Set 3
Astral Antagonists
This token pack contains 38 tokens. This pack is a colorful collection of creatures you might encounter in the Astral Plane. Even the friendly merchant looks like he may have a hidden agenda.
This Token Pack includes:
Astral Diplomat
Astral Space Merchant
6 Body Parts
Spiked Mage
Spiked Rogue
Spiked Warrior
Astral Ripper
Astral Abominal Panther
Astral Crab Demon
Astral Demon Insect
2 Astral Energy Motes
Astral Tracker
4 Dark Gods
Dark Spirit Form
Death Starfish
Demon of Arms
Demon of Bodies
Demon of Souls
Dream larvae
Energy Cat
Force Dragon
HaNaga
Lich Queen
Mad Mouther
Null and Void
2 Ork Gods
Vibrant Dragon
Void Demon
Requires: An active subscription or a one time purchase of a Fantasy Grounds Full or Ultimate license and any ruleset.
Some artwork copyright © 2017 Devin Night. All Rights Reserved.
Fantasy Grounds is a trademark of SmiteWorks USA LLC. © 2017 SmiteWorks USA LLC. ALL RIGHTS RESERVED.
Released on April 02, 2017
Designed for Fantasy Grounds version 3.2.2 and higher.
Screenshots
DNFGANYNTPASAN