Heroic Characters 17 (Token Pack)
Devin Night
---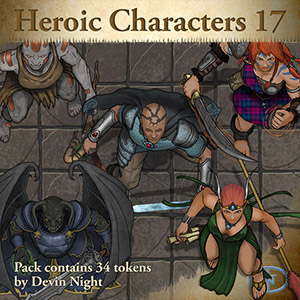 This product is part of a bundle. Complete the set and save on all bundled products you don't already own and all future additions to the bundle.
Devin Night Token Bundle Set 3
Heroic 17
34 Heroic Characters. You can use for heroes or NPCs.
This Token Pack includes:
Female Android
Female Android Broken
Female Black Leather
Female Celtic Warrior
Female Cleric Sun
Female Demonkin Druid
Female Demonkin Warlock
Female Dwarf Fighter
Female Elven Gunslinger
Female Elven Trident
2 Female Gypsie Clerics
Female Human Arcantix
Female Human Void Wizard
Female Mounted Dwarf
Female Mrs Gnome
Female Murder Doll
Female Snow Witch
Female Stoneman
Female Stoneman Warrior
Female Genie Shaitan
Male Cat Rogue
Male Cat Shaman
2 Male Dragonkin Paladins
Male Dragonkin Silver
Male Human Birdkeeper
2 Male Human Gladiators
Male Human Rogue or Bard
Male Minotaur Slasher
Male Necromancer
Male Stoneman
Male Stoneman Warrior
Requires: An active subscription or a one time purchase of a Fantasy Grounds Full or Ultimate license and any ruleset.
Some artwork copyright © 2017 Devin Night. All Rights Reserved.
Fantasy Grounds is a trademark of SmiteWorks USA LLC. © 2017 SmiteWorks USA LLC. ALL RIGHTS RESERVED.
Released on September 26, 2017
Designed for Fantasy Grounds version 3.2.2 and higher.
Screenshots
DNFGANYTPHC17