Devin Night Token Pack 112: Heroic Characters 23
Devin Night
---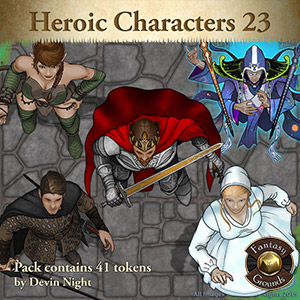 This product is part of a bundle. Complete the set and save on all bundled products you don't already own and all future additions to the bundle.
Devin Night Token Bundle Set 3
Devin Night Token Pack 112: Heroic Characters 23
This pack contains 40 characters for use as PC's or NPC's in your fantasy setting.
This product contains:
Female Elf Monk
Female Elf Mounted Princess
2 Female Elf Princesses
2 Female Elf Sorceresses
Female Human Bride
Female Human Paladin
Female Human Sorcerer
Female Knight
Female Sylph Sorceress
2 Male Angelic Warlocks
Male Asimaar Knight
Male Demigod Barbarian Helmed
Male Demigod Mage
Male Half-Elf Barbarian
Male Half-Elf Bard
Male Half-Elf Arms Master
Male Half-Elf Ranger
Male Human Artic Hunter
Male Human Bagpipper
Male Human Berserker
Male Human Blood Mage
Male Human Ex Gorgon
Male Human Fighter Scholar
Male Human Fire Mage
Male Human King
Male Human Backstabber
Male Human Old Wizard
Male Human Plains Hunter
Male Sea Elf
Male Human Spider Cult
Male Human Spider Cult, Winter
Male Human Swashbuckler
Male Human Veteran
Male Human Veteran Knight
2 Male Human Youngs
Male Human Young Patron
Male Oracle Death
Converted by:  James Holloway
Requires:An active subscription or a one time purchase of a Fantasy Grounds Full or Ultimate license and any ruleset.
Token pack artwork copyright (C) 2019 Devin Night. All Rights Reserved.
Released on September 10, 2019
Designed for Fantasy Grounds version 3.3.7 and higher.
Screenshots
DNFGANYTPHC23