Desert Encounters (Token Pack)
Devin Night
---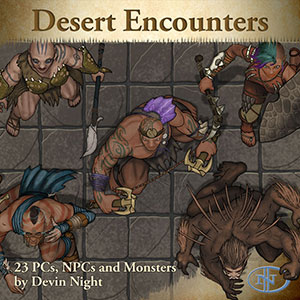 This product is part of a bundle. Complete the set and save on all bundled products you don't already own and all future additions to the bundle.
Devin Night Token Bundle Set 3
Desert Encounters
This token pack contains 23 tokens. This pack contains a variety of characters and creatures that could be found in sunny locales.
This Token Pack includes:
2 Bugmans
Female Dwarf Fighter
Female Elf Gypsie
Female Half Giant
Female Halfling
Female Human
Male Dwarf Fighter
Male Elf Merchant
Male Half Giant
Male Halfling
Male Human Fighter
Male Human Mentalist
Male Hybrid Fighter
Male Vulture Man
Male Worm King
Fire Drake
Male Goberilla
2 Nightmare Beasts
Sand Squid
Stone Wagon
Turtle Beast
Requires: An active subscription or a one time purchase of a Fantasy Grounds Full or Ultimate license and any ruleset.
Some artwork copyright © 2017 Devin Night. All Rights Reserved.
Fantasy Grounds is a trademark of SmiteWorks USA LLC. © 2017 SmiteWorks USA LLC. ALL RIGHTS RESERVED.
Released on April 02, 2017
Designed for Fantasy Grounds version 3.2.2 and higher.
Screenshots
DNFGANYNTPDEEN