Devin Night Token Pack #102: Chaotic Creatures 2
Devin Night
---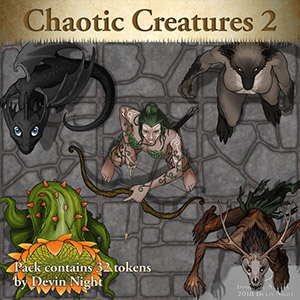 This product is part of a bundle. Complete the set and save on all bundled products you don't already own and all future additions to the bundle.
Devin Night Token Bundle Set 3
Devin Night Token Pack #102: Chaotic Creatures 2
This pack is a grab bag of different monsters.
This Token Pack includes:
Bug Larvae
Catfish of Doom
Demon Spider Catapult
Dragon Baby Black
Dragon Baby Silver
Dragon Baby Silver Flying
Dragon Mech
2 Dryad Archers
Elder God
Human Diplomat
Human Hyena
3 Werewolves
Kobold Warlock
Laser Barrel
3 Living Walls
Demigod Dragon
Mechahydra
Monkey, Fire
Remorhaz, Frost Wurm
Roc
Swamp Flower
Swamp Willow
Twigman
2 Unicorns
2 Wendigos
Requires: An active subscription or a one time purchase of a Fantasy Grounds Full or Ultimate license and any ruleset.
Token pack artwork copyright © 2018 Devin Night. All Rights Reserved.
Fantasy Grounds is a trademark of SmiteWorks USA LLC. © 2018 SmiteWorks USA LLC. ALL RIGHTS RESERVED.
Released on February 21, 2018
Designed for Fantasy Grounds version 3.3.4 and higher.
Screenshots
DNFGANYTPCC2