Trail of Tsathogghua
Chaosium
---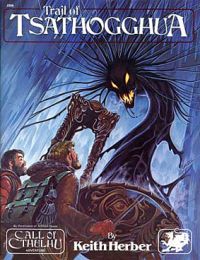 Call of Cthulhu - The Trail of Tsathogghua
An Adventure Module for use with the Fantasy Grounds virtual tabletop
This adventure is tailored for the physically-fit investigator; the challenges include an expedition to the icy interior, the climbing of dangerous glaciers, and encounters with hostile humans and others. At the end of the journey the investigators will find themselves faced with an ancient stone temple guarded by an inhuman sentinel. If the investigators can gain entry to this building, they will find clues to the disappearance of the strange race that once worshiped here. For the less physically-fit, more scholarly investigator, opportunities for quieter studious adventures also exist while in Greenland.
The original PDF contained three short adventures. This module contains only the first of three loosely connected modules.
Written by Keith Herber. Artwork by Steve Purcell, Mike Blum
Requirements: Full or Ultimate License of Fantasy Grounds and the Call of Cthulhu ruleset.
Conversion to FG by: mbabbs
CALL OF CTHULHU
Horror Roleplaying in the Worlds of H.P. Lovecraft
Call of Cthulhu is published by Chaosium Inc.
Call of Cthulhu (r) is the registered trademark of Chaosium Inc.
Fantasy Grounds II is a trademark of SmiteWorks USA LLC. (C) 2014 SmiteWorks USA LLC. ALL RIGHTS RESERVED. Visit the Fantasy Grounds II website at http://www.fantasygrounds.com for more product information.
Similarities between characters in Call of Cthulhu and persons living or dead are strictly coincidental.
This product is Copyright 2014, Chaosium and SmiteWorks USA, LLC. Used with permission from Chaosium. This product's format, programming code, and presentation is copyrighted by SmiteWorks USA, LLC. Redistribution by print or by file is strictly prohibited.
Released on February 23, 2014
Designed for Fantasy Grounds version 3.0.10 and higher.
Screenshots
CHA2308FG2
Customers Who Bought This Item Also Bought