Shadows of Yog-Sothoth
Chaosium
---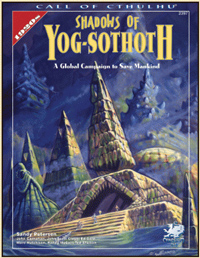 A Call of Cthulhu Adventure module for Fantasy Grounds
A GLOBAL CAMPAIGN TO SAVE MANKIND!
The Silver Twilight is an international organization dedicated to the destruction of the human race. As brave Investigators, you must piece together passages from esoteric books, shards of ancient artifacts, and puzzling letters to discover the Silver Twilight's loathsome goals. This multi-chapter adventure begins in Boston and spans the globe. The Investigators must survive and conquer the mind-shattering monsters and minions of the Cthulhu Mythos. Come, journey through awesome realms of reality, and match your wits and sanity against diabolical lurkers in SHADOWS OF YOG-SOTHOTH!
SHADOWS OF YOG-SOTHOTH is a seven-chapter tale of horror and suspense.
By Sandy Petersen and friends.
Requirements: Full or Ultimate License of Fantasy Grounds and the Call of Cthulhu ruleset.
Conversion by: Arnuphis
Fantasy Grounds II is a trademark of SmiteWorks USA LLC. (C) 2010 SmiteWorks USA LLC. ALL RIGHTS RESERVED. Visit the Fantasy Grounds II website at http://www.fantasygrounds.com for more product information.
The reproduction of material from within this product for the purposes of personal or corporate profit, by file, photographic, optical, electronic, or other media or methods of storage and retrieval, is prohibited.
This product is Copyright 2010, SmiteWorks USA, LLC. Used under license from Chaosium. This product's format, programming code, and presentation is copyrighted by SmiteWorks USA, LLC. Redistribution by print or by file is strictly prohibited.
Released on August 26, 2010
Designed for Fantasy Grounds version 2.9.9 and higher.
Screenshots
CHA2397FG2
Customers Who Bought This Item Also Bought