Black Scrolls Sewer (Map Pack)
AAW Games
---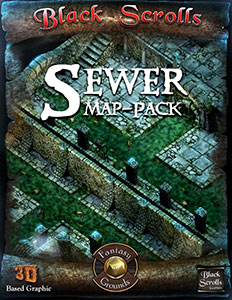 Black Scrolls Sewer (Map Pack)
This product required Fantasy Grounds Unity
What can be more exciting than getting under the city and crawling around in its waste? Itís full of joy and adventure, isnít it?
And sometimes, itís necessary. The druidís trees are dying. He says the roots are reaching down in the deep, right to the old sewer system that runs under the city. Something is happening down there and it would be great if you could prevent the destruction of the rare and precious trees before itís too late.
This set includes 49 sewer tiles.
Videos
Sewers (Map Pack) Product Demo on Fantasy Grounds
Requires: An active subscription or a one time purchase of a Fantasy Grounds Unity Standard or Ultimate license.
Some content Copyright (c) 2021 AAW Games, LLC and Black Scroll Games. ALL RIGHTS RESERVED.
keyword: tile packs, tiles, map tiles, map pack
Fantasy Grounds is a trademark of SmiteWorks USA LLC. © 2021 SmiteWorks USA LLC. ALL RIGHTS RESERVED.
Released on December 20, 2016
Designed for Fantasy Grounds version 3.2.1 and higher.
Screenshots
AAWFGANYSMP