Black Scrolls Medieval Fantasy Castle (Map Tile Pack)
AAW Games
---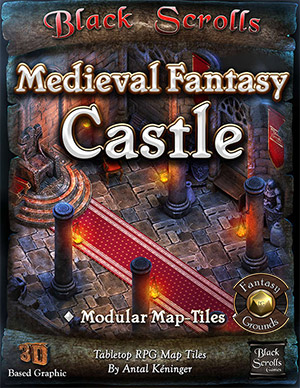 Black Scrolls Medieval Fantasy Castle (Map Tile Pack)
This product required Fantasy Grounds Unity
A beautiful castle with throne rooms, kitchen, library, armory, cantinas, treasure room, office, winter garden, guest rooms and more! This set is containing 36 unique areas and their empty or alternate versions with rooms, chambers, and corridors that you can mix with the Fortress tiles.
And sometimes, it's necessary. The druid's trees are dying. He says the roots are reaching down in the deep, right to the old sewer system that runs under the city. Something is happening down there and it would be great if you could prevent the destruction of the rare and precious trees before it's too late.
This set includes:
46 Tile Assets available under Assets > Images > Medieval Fantasy Castle
Built-in Line of Sight definitions for each tile, including doors, walls, terrain and even secrets
Pre-sized to snap to each other with no gaps
Videos
Product Demo on Fantasy Grounds Unity
Converted by:   Doug Davison
Requires: An active subscription or a one time purchase of a Fantasy Grounds Unity Standard or Ultimate license.
Some content Copyright (c) 2021 AAW Games, LLC and Black Scroll Games. ALL RIGHTS RESERVED.
Released on April 01, 2020
Designed for Fantasy Grounds version 3.3.7 and higher.
Screenshots
AAWFGANYMFC