D&D Tokens Volume 2
Wizards of the Coast
---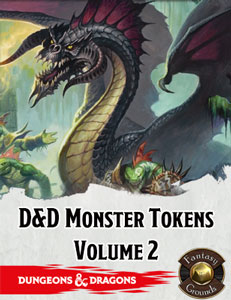 This product is part of a bundle. Complete the set and save on all bundled products you don't already own and all future additions to the bundle.
D&D Completionist Bundle
D&D Tokens Volume 2
D&D Tokens Volume 2 is a collection of monsters and NPCs from D&D's past that you can use with your modern Dungeons & Dragons game or with any fantasy game on Fantasy Grounds. These tokens were originally featured in the D&D Threats to the Nentir Vale set, but have been presented in a completely new format with just the tokens - each digitally rendered and loaded into a token module for use with Fantasy Grounds.
* Note that the art from these creatures and NPCs come from D&D 4th Edition, and may have been visually re-concepted or may not have a corresponding monster or NPC in the latest version of Dungeons & Dragons. They can be used for custom creations or variants of existing creatures.
This set features the following iconic monsters from Dungeons &Dragons:
aberrant saruun mage
abyssal plague demon beast
abyssal plague demon bender
abyssal plague demon hound
abyssal plague demon knight
abyssal plague demon vanguard
adder brood drake
Adrian "Iceheart" Reginold
Arkhosian siege tower
battle warg
bitterstrike white dragon
bloodfire ooze
bloodraven swarm
bloodspear half-troll
bloodspear ogrillon
bloodspear orc throng
boggle
Boldos Grimehammer
Bregga hound of ill omen
bronze warder
cadaver collector
Cassian DCherevan
cauldron guardian
coldscale drake
crested felldrake
crimson deathmist
Daggerburg bugbear
Daggerburg goblin
Daggerburg hobgoblin
dark drake of the Moonhills
dragonborn dragoon
dragonborn Legatus Dythan
dragonborn warrior
drow razer scourge
drow spider totemist
druid wolf
elderp eryton
emberdark kobold pillager
fallen hero
frost witch
frost witch harpy
gnoll feaster
gnoll grave digger
gnoll howler
goblin Kabo Bomble
Gravelstoke house guard
Greenmarket grifter
Hharkensheart druid elf
hellghost drake
hissing felldrake
hobgoblin necromancer
human Alesia Gravelstoke
human Mikus Gravelstoke
human Tovin Gravelstoke
human Vincent Gravelstoke
human warrior
human Xander Gravelstoke
human Sylish Kreed
Hurley the Troll
hyena pack
icycle swarm
ironcircle brigand
ironcircle commander
ironcircle darkadept
ironcircle rabble
ironcircle rabble female
ironcircl espy
Joplin Smallshadow
Kelson the Halfling
Knight of Phantom Brigade
leaping felldrake
lingering warrior spirit
liondrake
lizardfolk
lizardfolk dreadnought
lizardfolk dreadtail
lizardfolk fen spy
lizardfolk sorceror
lower quay guttersnipe
lowtown kneebreaker
mage of saruun
Maldrick Scarmaker gnoll
mirror mimic
mistmage
mistmane bugbear
mooncalf
Mysteriphal the Treant
orc grenadier
orc Warlord Dalderash
penangatan
peryton
primal sabertooth
Prince Helvath
Queen Msuga
ragewind
Ravenroost bandit
razorclaw jack
Rohka the Bloodwitch
satyr vassal
scroll mummy
Shadowmire the Black Dragon
Swiftwater urchin
tar devil guard
tar devil harrier
The Wandering Tower
three-headed red dragon
tiefling blackheart
tiefling Eveni Redblade
tiefling fellmage
tiefling Metech Ambrose
tiefling ruffian
tigerclaw brave
tigerclaw chief
tigerclaw hordeling
tigerclaw shaman
Tilrtha the drow werespider
treat Winterbole Rimeneedle
trihorn felldrake
troll
twig-blight
twig-blight swarm
Uthelyn the mad
vampiric mist
Vestapalk the Green Dragon
warrior spirit
Windbole Frostbeard treant
winterbole sapling
wood woad druid
wood woad juggernaut
Dungeons & Dragons, D&D, Wizards of the Coast, their respective logos, the dragon ampersand, all Wizards titles, the fifth edition rules, and Wizards' character names and distinctive likenesses are property and copyright of Wizards of the Coast LLC in the USA and other countries. Used with permission.
Released on July 05, 2016
Designed for Fantasy Grounds version 3.1.7 and higher.
Screenshots
WOTCTokensVol2