Tactical Maps: Adventure Atlas
Wizards of the Coast
---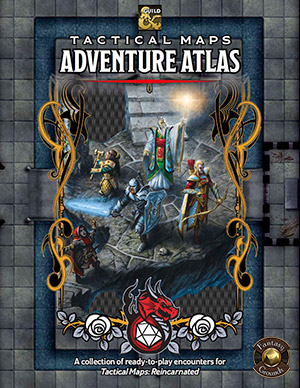 This product is part of a bundle. Complete the set and save on all bundled products you don't already own and all future additions to the bundle.
D&D Completionist Bundle
Note: This product does not include maps from D&D Tactical Maps Reincarnated which is required for play.
Tactical Maps: Adventure Atlas
88 ready-to-play encounters are here to save game night!
Adventure anytime! Tactical Maps: Adventure Atlas makes playing Dungeons & Dragons easy. This supplement provides everything you need to plan an evening (or even just an hour) of D&D for characters of any level with very little preparation. Just pick an adventure from this supplement, take a few minutes to read it over, and game time is good to go.
You can also use this supplement to throw down a new adventure when the players take the story in a surprising direction. Several of the adventures in this supplement take only an hour or so of time, allowing for side-trek sessions that fit into diverse stories and hectic schedules.
This supplement can be enhanced with Tactical Maps: Reincarnated. Each of the 22 maps included in that product is detailed as a full fantastic location in the Adventure Atlas and given four short adventures, meaning this supplement includes 88 ready-to-play adventures from the following designers:
M.T. Black
Will Doyle
James Haeck
James Introcaso
Rich Lescouflair
Ginny Loveday
Shawn Merwin
Cindy Moore
Ashley Warren
Converted by:   Zacchaeus
Requires: An active subscription or a one time purchase of a Fantasy Grounds Full or Ultimate license and the included D&D fifth edition ruleset.
Recommended: D&D Basic Rules, D&D Player's Handbook or D&D Character Customization Pack, D&D Monster Manual
Dungeons & Dragons, Advanced Dungeons & Dragons, their logos, Forgotten Realms, and D&D, are trademarks of Wizards of the Coast LLC. Used with permission. All rights reserved.
Released on April 30, 2019
Designed for Fantasy Grounds version 3.3.7 and higher.
Screenshots
WOTC5ETMAA