D&D Tactical Maps Reincarnated
Wizards of the Coast
---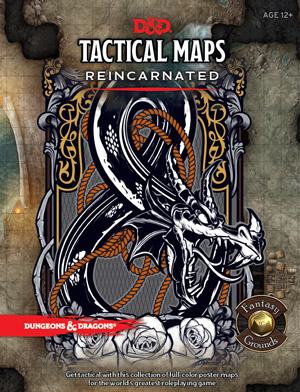 This product is part of a bundle. Complete the set and save on all bundled products you don't already own and all future additions to the bundle.
D&D Completionist Bundle
DUNGEONS & DRAGONS TACTICAL MAPS REINCARNATED
Bring your Dungeons & Dragons game to life with this collection of twenty beautifully rendered, full-color, tactical poster maps.
Maps are a key element of every Dungeons & Dragons campaign. A map's importance in bringing your world to life can't be overstated. The same can be said for your encounter maps. Sometimes you need a visual representation of the area your adventurers are in, or perhaps tactical combat is simply the way your group rolls.
However you play, we've got you covered. Twenty beautifully rendered, tactical poster maps are contained herein, perfect for bringing any D&D game to life.
Converted by:  Doug Davison
Requires:An active subscription or a one time purchase of a Fantasy Grounds Full or Ultimate license and any ruleset.
Dungeons & Dragons, its logo, and D&D, are trademarks of Wizards of the Coast LLC. Used with permission. All rights reserved.
Released on February 19, 2019
Designed for Fantasy Grounds version 3.3.7 and higher.
Screenshots
WOTCTMR