D&D Adventurers League 09-08 In the Garden of Evil
Wizards of the Coast
---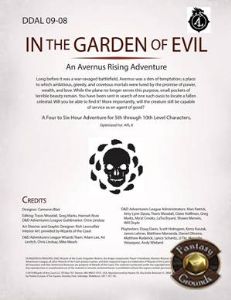 D&D Adventurers League 09-08 In the Garden of Evil
Long before it was a war-ravaged battlefield, Avernus was a den of temptation; a place to which ambitious, greedy, and covetous mortals were lured by the promise of power, wealth, and love. While the plane no longer serves this purpose, small pockets of terrible beauty remain. You have been sent in search of one such oasis to locate a fallen celestial. Will you be able to find it? More importantly, will the creature still be capable of service as an agent of good?
A Four to Six-Hour Adventure for Tier 2 Characters. Optimized for APL 8.
Adapted for Fantasy Grounds by: Danny Stratton
Requires: An active subscription or a one time purchase of a Fantasy Grounds Full or Ultimate license and the included D&D fifth edition ruleset.
Recommended: D&D Basic Rules, D&D Player's Handbook or D&D Character Customization Pack, D&D Monster Manual
Dungeons & Dragons, its logo, and D&D, are trademarks of Wizards of the Coast LLC. Used with permission. All rights reserved.
Released on July 21, 2020
Designed for Fantasy Grounds version 3.3.7 and higher.
Screenshots
WOTC5EDDAL0908