D&D DDIA-XGE Underworld Speculation
Wizards of the Coast
---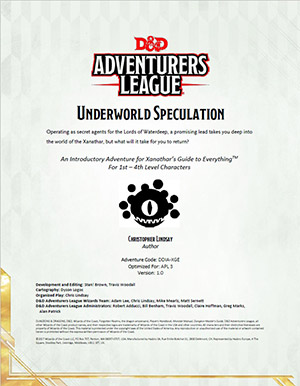 This product is part of a bundle. Complete the set and save on all bundled products you don't already own and all future additions to the bundle.
D&D Completionist Bundle
Dungeons & Dragons: DDIA-XGE Underworld Speculation
Operating as secret agents for the Lords of Waterdeep, a promising lead takes you deep into the world of the Xanathar, but what will it take for you to return?
An Introductory adventure for Xanthar's Guide to Everything™ supporting characters from 1st to 4th level.
This Dungeons & Dragons product contains:
7 Unique encounters many at varying difficulty levels
4 Magic items
7 NPCs, Traps, and monsters
7 Pregenerated Characters
24 Interesting Story entries
A detailed reference manual for easy reading.
By Christopher Lindsay
In order to fully use this module and especially the pre-generated characters you will need the D&D Player's Handbook, Xanathar's Guide to Everything and the Sword Coast Adventures Guide.
Requirements: An active subscription or a one time purchase of a Fantasy Grounds Full or Ultimate license, the D&D Complete Core Class Pack (for pre-gens), Xanathar's Guide to Everything and the Sword Coast Adventurers Guide.
Dungeons & Dragons, its logo, Forgotten Realms and D&D are trademarks of Wizards of the Coast LLC and are used with permission. © 2017 Wizards of the Coast. All rights reserved.
Released on January 16, 2018
Designed for Fantasy Grounds version 3.2.2 and higher.
Screenshots
WOTC5EDD1AXGE