Devin Night Token Pack #116: Elite Goblins
Devin Night
---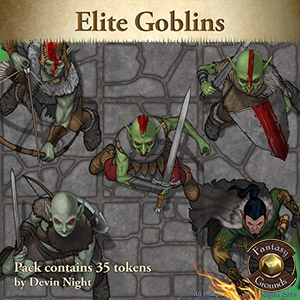 This product is part of a bundle. Complete the set and save on all bundled products you don't already own and all future additions to the bundle.
Devin Night Token Bundle Set 2
Devin Night Token Pack #116: Elite Goblins
A pack of well organized and equipped goblins.
This product includes:
Female Goblin Archer
Female Goblin Soldier
Female Hobgoblin Archer
Female Hobgoblin Soldier
Female RedWolf Goblin
Female Redwolf Hobgoblin
2 Male Goblin Archers
2 Male Goblin Chiefs
Male Goblin Cutter
Male Goblin Maniac
Male Goblin Necro
4 Male Goblin Soldiers
Male Goblin Soldier Spear
Male Goblin Shaman
2 Male Hobgoblin Archer
Male Hobgoblin Champion
Male Hobgoblin Soldier
Male Hobgoblin Warmage
Male Redwolf Cutter
Male Redwolf Goblin Chief
4 Male Redwolf Goblins
Male Redwolf Hobgoblin Champion
2 Male Redwolf Hobgoblins
Red Wolf
Converted by:  James Holloway
Requires:An active subscription or a one time purchase of a Fantasy Grounds Full or Ultimate license and any ruleset.
Token pack artwork copyright (C) 2019 Devin Night. All Rights Reserved.
Released on September 24, 2019
Designed for Fantasy Grounds version 3.3.7 and higher.
Screenshots
DNFGANYTP116EG