D&D Classics: G1 Steading of the Hill Giant Chief
Wizards of the Coast
---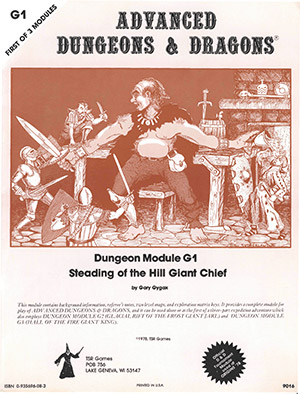 This product is part of a bundle. Complete the set and save on all bundled products you don't already own and all future additions to the bundle.
Dungeons & Dragons Classics Bundle
D&D Classics: G1 Steading of the Hill Giant Chief
Giants have been raiding the lands of men in large bands, with giants of different sorts in these marauding groups. Death and destruction have been laid heavily upon every place these monsters have visited. A party of the bravest and most powerful adventurers has been assembled and given the charge to punish the miscreant giants.
We (Wizards) recognize that some of the legacy content available on this website does not reflect the values of the Dungeons & Dragons franchise today. Some older content may reflect ethnic, racial, and gender prejudice that were commonplace in American society at that time. These depictions were wrong then and are wrong today. This content is presented as it was originally created, because to do otherwise would be the same as claiming these prejudices never existed. Dungeons & Dragons teaches that diversity is a strength, and we strive to make our D&D products as welcoming and inclusive as possible. This part of our work will never end.
Converted by:   Terry Buckingham
Requires: An active subscription or a one time purchase of a Fantasy Grounds Full or Ultimate license and the included 2E ruleset.
Dungeons & Dragons, Advanced Dungeons & Dragons, their logos, Forgotten Realms, and D&D, are trademarks of Wizards of the Coast LLC. Used with permission. All rights reserved.
Released on June 11, 2019
Designed for Fantasy Grounds version 3.3.7 and higher.
Screenshots
WOTC2EG1
Customers Who Bought This Item Also Bought