Pathfinder RPG - Ultimate Equipment
Paizo Inc.
---
This product is part of a bundle. Complete the set and save on all bundled products you don't already own and all future additions to the bundle.
Pathfinder 1E RPG Player Bundle
Please note that you can get the entire cost of the PDF purchased from paizo.com off this order as a discount. To do so, please first visit the Store > Paizo Account Synchronizationmenu option. Follow the instructions there to link your account and Retrieve a list of purchases from paizo.com. Once retrieved, adding this product to your cart will show a discount equivalent to the full cost of the PDF.
Pathfinder RPG - Ultimate Equipment
Choose your weapon and stride boldly into battle with Pathfinder RPG Ultimate Equipment! Within this handy, all-in-one reference, you'll find 400 jam-packed pages of magic items and adventuring gear, from simple camping equipment and weapons up to the most earth-shaking artifacts. Included as well are handy rules references, convenient price lists, and extensive random treasure generation tables, all organized to help you find what you need, when you need it. With this vast catalog of tools and treasures, the days of boring dragon hoards are over, and your hero will never be caught unprepared again.
Pathfinder RPG Ultimate Equipmentis a must-have companion volume to the Pathfinder RPG Core Rulebook. This imaginative tabletop game builds on more than 10 years of system development and open playtests featuring more than 50,000 gamers to create a cutting-edge RPG experience that brings the all-time best-selling set of fantasy rules into the new millennium.
Pathfinder RPG Ultimate Equipmentincludes:
Thousands of items both magical and mundane, including the best weapons, armors, magic items, and gear from the Pathfinder RPG hardcover line and select other Pathfinder sources, as well as hundreds of never-before-seen items.
Tons of special materials and magical abilities to help you create exactly the magic item you've been looking for.
A wealth of specific magic items, organized by type to ensure your character is always wearing as much magic as possible.
An innovative new treasure generation system, designed to help GMs roll up exactly what they need, every time.
New alchemical weapons, tools, and poisons.
Kits to help your character get the most out of her skills or profession, plus new mounts, animal companions, and retainers.
Descriptions of every item, plus hundreds of full-color illustrations to aid in window-shopping.
... and much, much more!
This product is not a PDF or accessible outside of Fantasy Grounds. It has been lovingly converted for use within Fantasy Grounds and features the following additions:
All maps resized and set up with a preset grid to make combats easy to manage
Individual area descriptions linked to maps, containing new encounters, treasure parcels and descriptions for just that area
Tokens for each encounter are all pre-placed in starting locations on the map. You can edit these on the fly.
Drag and drop treasure parcels and Encounter XP that is easily awarded to your players to keep the game moving ahead
All the images and handouts from the book available to share with your players as you need them
Converted by:  Danny Stratton
Requires:An active subscription or a one time purchase of a Fantasy Grounds Full or Ultimate license and the included Pathfinder ruleset.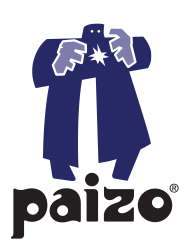 Pathfinder, their respective logos, the Paizo golem, all Paizo titles, the Pathfinder Roleplaying Game rules, and Paizo's character names and distinctive likenesses are property and copyright of Paizo, Inc. in the USA and other countries. Used with permission. (C) 2019
Released on July 23, 2019
Designed for Fantasy Grounds version 3.3.7 and higher.
Screenshots
PZOSMWPZO1123FG