Pathfinder RPG - Ultimate Magic
Paizo Inc.
---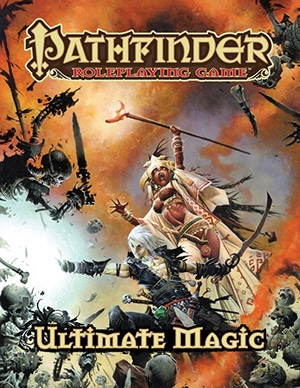 Please note that you can get the entire cost of the PDF purchased from paizo.com off this order as a discount. To do so, please first visit the Store > Paizo Account Synchronization menu option. Follow the instructions there to link your account and Retrieve a list of purchases from paizo.com. Once retrieved, adding this product to your cart will show a discount equivalent to the full cost of the PDF.
Raise your character to the pinnacle of magical might with Pathfinder Roleplaying Game Ultimate Magic! Within this book, secrets arcane and divine lie ready to burst into life at the hands of all the spellcasting classes in the Pathfinder Roleplaying Game. In addition to the brand-new magus class—a master of both arcane magic and martial prowess—you'll also find a whole new system for spellcasting, rules for spell duels and other magical specialities, and pages upon pages of new spells, feats, and more. Because when it comes to magic, why settle for less than absolute power?
Pathfinder Roleplaying Game Ultimate Magic is a must-have companion volume to the Pathfinder Roleplaying Game Core Rulebook. This imaginitive tabletop game builds on more than 10 years of system development and an Open Playtest featuring more than 50,000 gamers to create a cutting-edge RPG experience that brings the all-time best-selling set of fantasy rules into the new millennium.
Pathfinder Roleplaying Game Ultimate Magic includes:
The magus, a new base class combining deadly arcane magic with the skills and weapons of a trained warrior.
Words of power, an innovative and flexible new spellcasting system.
New options for dedicated casters, such as alchemist discoveries, alternative uses for channeled energy, druid companions, sorcerer bloodlines, eidolon abilities, witch hexes, and oracle mysteries.
Additional feats and magical abilities for martially oriented casters, including monk ki tricks, inquisitor archetypes, and ranger traps.
New magical conditions called spellblights, as well as systems for crafting constructs, binding outsiders, and spell-dueling.
More than 100 new spells, plus detailed guidelines for designing your own.
... and much, much more!
This product is not a PDF or accessible outside of Fantasy Grounds. It has been lovingly converted for use within Fantasy Grounds and features the following additions:
A new reference manual organized for ease of reference and presentation. Share a single page if you like.
Tokens for nearly every monster
All the images from the book available to share with your players as you need them, conveniently linked to the NPC
Special abilities and spells linked to the NPC records for ease of reference and use during combat
Requirements: This content requires an active license or subscription for Fantasy Grounds to download and use.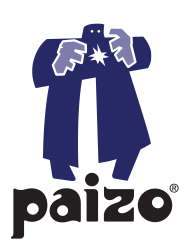 Pathfinder, their respective logos, the Paizo golem, all Paizo titles, the Pathfinder Roleplaying Game rules, and Paizo's character names and distinctive likenesses are property and copyright of Paizo, Inc. in the USA and other countries. Used with permission. (C) 2017
Released on September 14, 2017
Designed for Fantasy Grounds version 3.2.2 and higher.
Screenshots
PZOSMWPZO1117FG