Pathfinder RPG - Rise of the Runelords Anniversary Edition
Paizo Inc.
---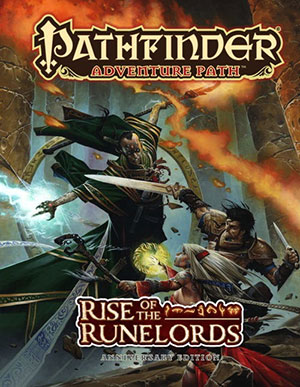 Please note that you can get the entire cost of the PDF purchased from paizo.com off this order as a discount. To do so, please first visit the Store > Paizo Account Synchronization menu option. Follow the instructions there to link your account and Retrieve a list of purchases from paizo.com. Once retrieved, adding this product to your cart will show a discount equivalent to the full cost of the PDF.
Rise of the Runelords Anniversary Edition
In the sleepy coastal town of Sandpoint, evil is brewing. An attack by crazed goblins reveals the shadows of a forgotten past returning to threaten the town—and perhaps all of Varisia. The Rise of the Runelords Adventure Path begins with this goblin raid and takes players on an epic journey through the land of Varisia as they track a cult of serial killers, fight backwoods ogres, stop an advancing army of stone giants, delve into ancient dungeons, and finally face off against a wizard-king in his ancient mountaintop city.
This compilation updates the fan-favorite campaign to the Pathfinder Roleplaying Game rules with revised and new content packed with mayhem, excitement, and adventure!
Celebrating both the fifth anniversary of the Pathfinder Adventure Path and the tenth anniversary of Paizo Publishing, this new edition expands the original campaign with new options and refined encounters throughout, incorporating 5 years of community feedback.
The Rise of the Runelords Anniversary Edition contains:
All six chapters of the original Adventure Path, expanded and updated for use with the Pathfinder Roleplaying Game.
Articles on the major locations of Rise of the Runelords: sleepy Sandpoint, the ancient Thassilonian city of Xin-Shalast, and others.
Revelations on the sinister magic of Thassilon, with updated spells, magic items, and details on tracking sin points throughout the campaign.
A bestiary featuring eight monsters updated from the original Adventure Path, plus an all-new terror.
Dozens of new illustrations, never-before-seen characters, location maps, and more!
Pathfinder is Paizo Inc's Adventure Path that releases in a monthly volume. Each volume is brought to you by the same staff which brought you Dragon and Dungeon magazines for over five years. It contains an in-depth Adventure Path scenario, stats for about a half-dozen new monsters, and several support articles meant to give Game Masters additional material to expand their campaign. Because Pathfinder uses the Open Game License, it is 100% compatible with the world's most popular fantasy roleplaying game.
This product is not a PDF or accessible outside of Fantasy Grounds. It has been lovingly converted for use within Fantasy Grounds and features the following additions:
All maps resized and set up with a preset grid to make combats easy to manage
Individual area descriptions linked to maps, containing new encounters, treasure parcels and descriptions for just that area
Tokens for each encounter are all pre-placed in starting locations on the map. You can edit these on the fly.
Drag and drop treasure parcels and Encounter XP that is easily awarded to your players to keep the game moving ahead
All the images and handouts from the book available to share with your players as you need them
Requires: This content requires an active license or subscription for Fantasy Grounds to download and use.
Videos
Fantasy Grounds Pathfinder Rise of the Runelords Product Demo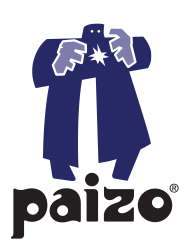 Pathfinder, their respective logos, the Paizo golem, all Paizo titles, the Pathfinder Roleplaying Game rules, and Paizo's character names and distinctive likenesses are property and copyright of Paizo, Inc. in the USA and other countries. Used with permission. (C) 2017
Released on May 02, 2017
Designed for Fantasy Grounds version 3.2.2 and higher.
Screenshots
PZOSMWPZO1002FG