Forest Kingdom KS (Token Pack)
Legendary Games
---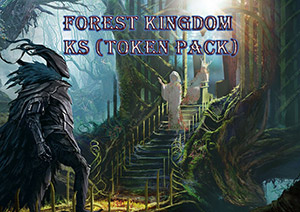 Forest Kingdom (Token Pack)
A fantastic collection of monsters for fey and forest-themed campaigns from the boreal wight and stromkarl nixie to the mighty chernobog! Plus character art are perfect for allies, rivals, or playable PCs!
This token pack includes:
Amadan
Arkadyus-Sakharov
Astomoi
Banshee
Barrow Wight
Blackthorn Dryad
Bokeryder
Boreal Wight
Davor Hestruk
Dear Caleb
Dhentalis
Faerie Dragon
Faun
Faunlara Daedys
Fey Wolverine
Fossegrim or Stromkarl
Fungus Queen
Green Child
Green Hag
Gruen
Hag Harionna
Hulgrim
Koravis Duskwhisper
Kristryd
Leprechaun
Lord Stonegaard
Lycanthrope, Werewolf
Magpie Prince
Naekk
Orruol
Pixie
Polevik
Pollyna Shuryon
Pyotr Dig
Quinry Kimm
Radomir Lythkin
Raven
Red Cap
Satyr
Satyr Prince
Sister Queens
Slough
Sprite Wizard
Stromkarl Nixie
Swan Maiden
Tialua
Torden
Totemoq
Treant Companion
Ugrohter
Vine Maiden
Vodenjak-Wodyanov
2 Werewolfs
Wiitikowan
Will O' Wisp
Arctic Harpspider
Assassin Vine
Centaur
Chernobog
Death Coach
Dullahan
Fairy Ring
Faleich Wyrm
Forest Drake
Frumious Bandersnatch
Green Dragon
Hiisi
Imperial Forest Dragon
Jabberwock
Jubjub Bird
Kongomato
Linnorm, Taiga
Maniitok
Manitou
Phantasmagoria
Queen Spider
Shambling Mound
Stalimedved
Unicorn Rider
2 Vine Guardians
Wendigo
Wiitikiowan Wolverine
Requirements: An active subscription or a one time purchase of a Fantasy Grounds Full or Ultimate license and any ruleset.
Conversion by: James Holloway
This product is Copyright 2017, SmiteWorks USA, LLC. Used under license from Legendary Games. This product's format, programming code, and presentation is copyrighted by SmiteWorks USA, LLC.
Released on September 06, 2017
Designed for Fantasy Grounds version 3.2.2 and higher.
Screenshots
LGP340KB10TK