Treasury of the City
Legendary Games
---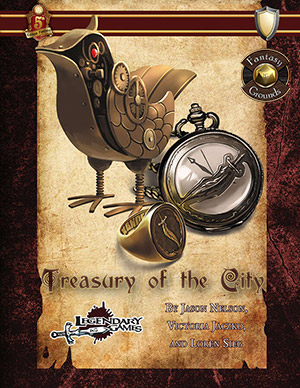 Treasury of the City
Magic of Sewer, Street, and Throne!
The city is a dangerous place, and adventurers daring to brave the urban jungle need the right equipment! Treasury of the City (5E) brings you three dozen brand-new magic items perfect for every part of the city, from the back alleys, sewers, and slums, to the halls of power and the smoke-filled back rooms where power brokers rule from the shadows. You'll find weapons and combat accessories like the toxic scabbard and forgetful sap alongside protective devices like cryptwarden's plate and the roofrunner's buckler . Delvers into the dank byways beneath the city will love ratty robes and the sewer suit, while those accustomed to high places will love the lecturer's staff, senator's stole , and the scale of endless bureaucracy ! Criminals will find handy devices like pilferer's gloves and the cheater's hat , while officers of the law wield the mark of the authority, nightwatch crossbow, and the inspector's bullhorn to bring them to justice! Wherever your heroes venture in adventures of urban intrigue, they'll find the perfect tools to take down treacherous advisers and bring justice to the streets. Grab this 20-page book of treasures for 5th Edition and Make Your Game Legendary!
Converted by:   Connor Bates
Requires: An active subscription or a one time purchase of a Fantasy Grounds Full or Ultimate license and the included 5E Compatible ruleset.
Copyright (C) 2019 Legendary Games, All rights reserved. Used with permission.
This product is Copyright 2019, SmiteWorks USA, LLC. Used under license from Legendary Games. This product's format, programming code, and presentation is copyrighted by SmiteWorks USA, LLC.
Released on February 18, 2020
Designed for Fantasy Grounds version 3.3.7 and higher.
Screenshots
LGP322CT065E