Mythic Monsters #19: Constructs
Legendary Games
---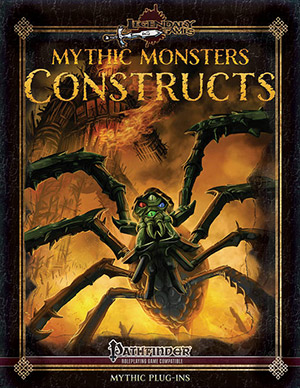 Mythic Monsters 19: Constructs
Mythic Monsters: Constructs brings you a dozen and one manufactured monsters, from classical foes like the clerical clay golem to the statuesque stone golem and the invincible iron golem, as well as natural constructs like frigid ice golem and the lumbering wood golem. Constructs go far beyond golems, however, and this book brings you a pair of pitiless and tireless hunters in the tiny iron cobra and the titanic retriever, each relentless and deadly in its own way, though these mechanical marvels are dwarfed by the colossal clockwork goliath. The beautiful caryatid column is perfect in its form and in its fighting, while the scarecrow is barely held together yet possessed of a malign and fearsome will that brings a transfixing terror to those who must face it. A construct need not be entirely lifeless, as a homunculus is brought into being from a spellcaster's own blood and spirit. Some constructs, however, take on more of a life of their own, being worshiped at times as idols or becoming fonts of sacrifice, like the towering and terrible wickerman. To this collection of constructs CR 2 to 23, we present the weirdling wheeled phantasmagoria wagon, a living construct borne of the fey realms and carrying a universe of psychedelic horror and reality-warping strangeness wherever it roams. As if this were not enough, we also bring you mythic spells and rules for making and mastering mythic constructs of your very own!
The Mythic Monsters series from Legendary Games brings you dynamic and exciting mechanics alongside evocative and cinematic new abilities that really help creatures live up to their flavor text, whether they are creatures of real-world myth and legend or creatures born out of the RPG tradition itself. These creatures can work just as well in a non-mythic campaign as they do in one that incorporates the full mythic rules, as you can throw them at your jaded players who think they've seen it all or know the standard monster stats as well as you do. That look of surprise and "What was THAT?" will warm any GM's heart.
Requirements: An active subscription or a one time purchase of a Fantasy Grounds Full or Ultimate license and the included Pathfinder ruleset.
Conversion by: Jay Scheponik
This product is Copyright 2018, SmiteWorks USA, LLC. Used under license from Legendary Games. This product's format, programming code, and presentation is copyrighted by SmiteWorks USA, LLC.
Released on March 12, 2018
Designed for Fantasy Grounds version 3.3.4 and higher.
Screenshots
LGP090MY20PF