Ultimate Rulership
Legendary Games
---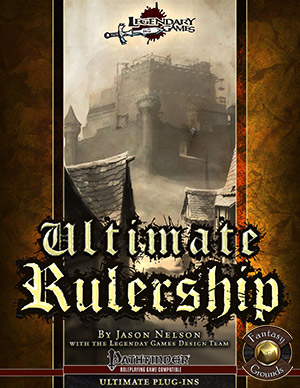 Ultimate Rulership
Heroes Rule!
Ultimate Rulership is a massive expansion to the 5th Edition rules for building and ruling a domain of your very own!
Building upon the rules introduced in Kingdoms from Legendary Games, Ultimate Rulershipprovides new rulership edicts for festivals, espionage, and more, as well as expanded guidelines on founding and investing in your kingdom alongside a vast array of noble titles and forms of address.
Build villages into towns and cities as your population expands with your territory, and enhance them with magical improvements, natural advantages, over a dozen new buildings from aeriesto lumberyards, or construct magnificent hanging gardens, lighthouses,or a magnificent colossus,or an entire exotic settlement from cliff dwellingsto treetop citiesand underwatercities!
Add to that a new system of danger in managing kingdom events and over 70 settlement attributes to make each city unique, from natural geography like resettled ruinsand strategic locationto a legendary marketplaceor rumormongering citizens, or even magical attributes like a planar crossroads, slumbering monster,or a god-ruled city!
Plus dozens of tables to reference every rule. Your heroes can establish their own domains, raising cities and monuments to their glory and becoming a force to be reckoned with in the campaign world, striking out into a position of leadership with amazing depth and detail.
Grab this fantastic 5E supplement today and Make Your Game Legendary!
Converted by:  Connor Bates
Requires:An active subscription or a one time purchase of a Fantasy Grounds Full or Ultimate license and the included 5E Compatible ruleset.
Copyright (C) 2019 Legendary Games, All rights reserved. Used with permission.
This product is Copyright 2019, SmiteWorks USA, LLC. Used under license from Legendary Games. This product's format, programming code, and presentation is copyrighted by SmiteWorks USA, LLC.
Released on July 23, 2019
Designed for Fantasy Grounds version 3.3.7 and higher.
Screenshots
LGP024UL015E