Jans Tokenpack 19 - Townsfolk 1
Indie Publishers
---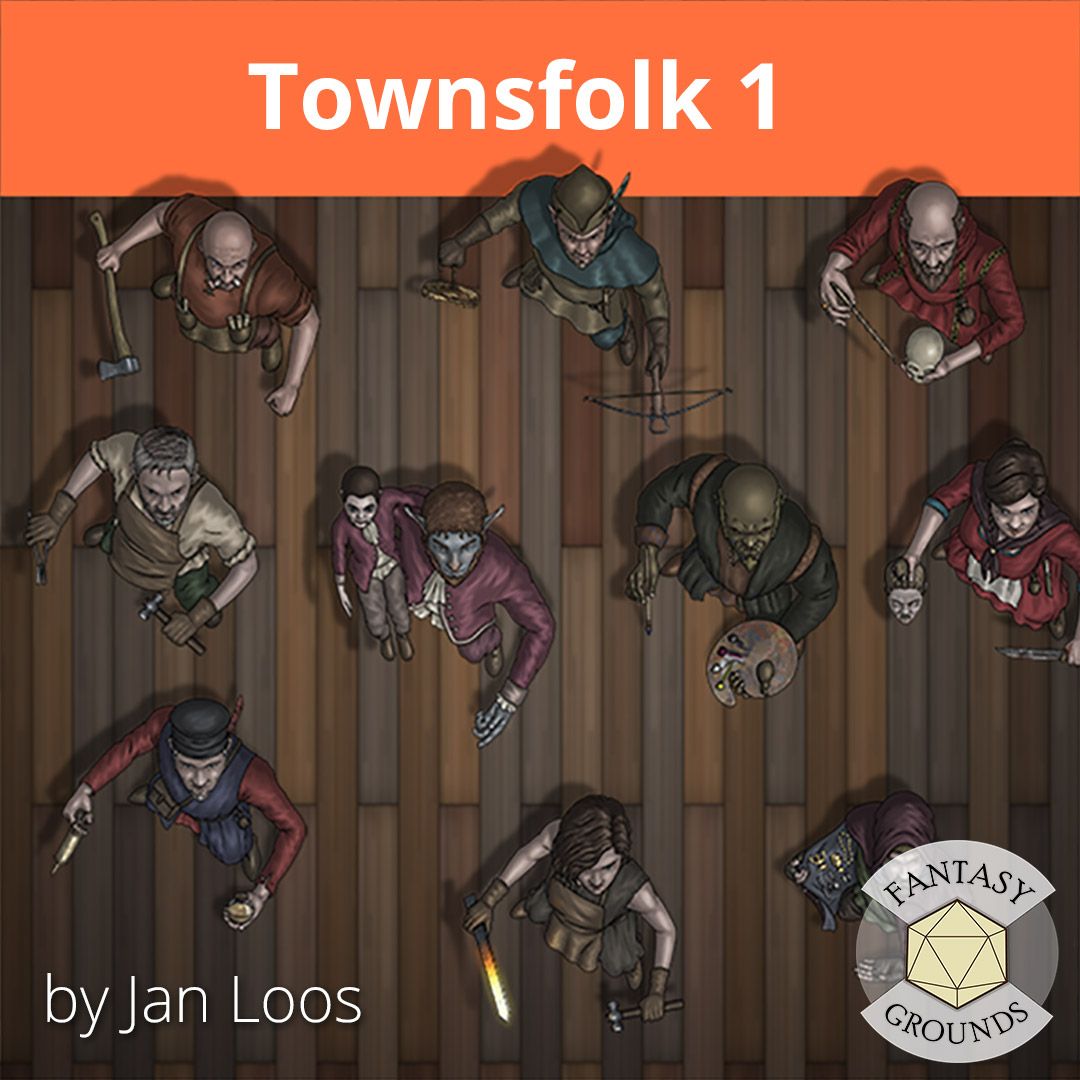 Jans Tokenpack 19 - Townsfolk 1
Are you looking for some colorful NPC's to fill your villages and towns? Look no further! How about a Goblin Fisherman , or a Firbolg Ventriloquist ? Need some illegal potions from the black market? Our Thief Fence has got you covered.
This pack consists of 15 base tokens with 3 variations for each token.
This product contains:
10a-Human-Gunsmith
10b-Human-Hoofsmith
10c-Human-blacksmith
11a-Thief-Fence
11b-Thief-Fence
11c-Thief-Fence
12a-Woman-Psychopath
12b-Fisherwoman
12c-Human-Cook
13a-Human-Blacksmith
13b-Human-Gunsmith
13c-Human-Blacksmith
14a-Firbolg-Jeweler
14b-Firbolg-Ventriloquist
14c-Firbolg-Clothier
15a-Goblin-Fisherman
16b-Goblin-Gangster
16c-Goblin-Merchant
1a-Dwarf-Carpenter
1b-Dwarf-Lumberjack
1c-Dwarf-Pistol
2a-Gnome-Alchemist
2b-Gnome-Painter
2c-Gnome-Fortuneteller
3a-Human-Artificer
3b-Human-Gunsmith
3c-Human-Enchanter
4a-Human-Towncrier
4b-Human-Guard
4c-Human-Guard
5a-Human-Physician
5b-Human-Mage
5c-Human-Gem
6a-Elf-Weaver
6b-Elf-Noble
6c-Noble-Fruit
7a-Drow
7a-Elf-Trapper
7b-Elf-Trapper
8a-Orc-Noble
8b-Orc-Noble
8c-Orc-Painter
9a-Human-Librarian
9c-Human-Necromancer
9c-Human-Poisoner
Adapted for Fantasy Grounds by:   Jan Loos
Requires: An active subscription or a one time purchase of a Fantasy Grounds Full or Ultimate license and any ruleset. Compatible with Fantasy Grounds Unity or Fantasy Grounds Classic
Owned by Jan Loos. Copyright (C) 2021. Used with permission. All rights reserved.
Released on March 02, 2021
Designed for Fantasy Grounds version 3.3.7 and higher.
Screenshots
IPFGANYJLJTP19