NPCs: The Poor (Token Pack)
Devin Night
---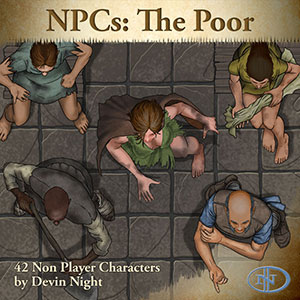 This product is part of a bundle. Complete the set and save on all bundled products you don't already own and all future additions to the bundle.
Devin Night Token Bundle Set 2
NPCs: The Poor
This token pack contains 43 tokens. This pack contains non player characters of low standing found in a typical town.
This Token Pack includes:
2 Female Barmaids
2 Female and one Male Beggar
Male and Female Elderly
Male and Female Farmer
Female Message Bearer
Female Poor Carrier
Female Poor Cloaked
Female Poor Dog Sitter
Female Poor Net Mender
Female Poor Shepherd
2 Female Poor Sleeping
Female Poor Washer
Female Poster Maker
Female Sitting Beggar
Female Sitting Washer
Male Baker
Male Cook
Male Digger
3 Male Dock Workers
2 Male Fishers
Male Foreman
Male Hauler
Male Miner
2 Male Poor Merchant2
2 Male Poor Sleeing
Male Sitting
Male Sitting Beggar
2 Male Travelers
2 Male Woodchopper
Token Info Card
Requires: An active subscription or a one time purchase of a Fantasy Grounds Full or Ultimate license and any ruleset.
Some artwork copyright © 2017 Devin Night. All Rights Reserved.
Fantasy Grounds is a trademark of SmiteWorks USA LLC. © 2017 SmiteWorks USA LLC. ALL RIGHTS RESERVED.
Released on March 23, 2017
Designed for Fantasy Grounds version 3.2.2 and higher.
Screenshots
DNFGANYNTP