Mutants & Masterminds Ruleset and Hero's Handbook
Green Ronin
---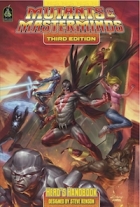 Mutants & Masterminds Hero's Handbook and Ruleset
Mutants & Masterminds 3rd Edition for the Fantasy Grounds virtual tabletop
The Mutants & Masterminds Hero's Handbook and ruleset contains all the necessary information from the core rulebook of the game's third edition and it gives you everything you need to have your own superheroic adventures online. The detailed character creation system lets you create the hero you want to play, choosing from a wide range of skills, advantages, and power effects. Customize your hero's powers with modifiers to create an almost endless range of superhuman abilities. Choose the complications your hero must overcome, earning you the hero points to achieve victory. You can also choose from one of more than a dozen heroic archetypes, customize as you like, and be ready to play in just minutes!
The streamlined system of game play requires only a single die roll and features easy to use rules. Play out an entire heroic adventure in a few short hours without long, drawn-out encounters. Plus the hero point system allows players to influence the flow of the story and pull off superheroic stunts in the best comic book tradition! Become a hero of legend with the Mutants & Masterminds Hero's Handbook and Ruleset!
Within Fantasy Grounds, the ruleset includes these additional features:
Hero's Handbook Library Module
Advantages (drag and drop)
Armor (drag and drop)
Conditions (drag and drop)
Equipment (drag and drop)
Powers (drag and drop)
Powers - Extras and Flaws (drag and drop)
Skills (drag and drop)
Weapons (drag and drop)
Supporting Characters, Trained Combatants, Animals, Underworld Archetypes and Player Archetypes with stats pre-entered (drag and drop)
Organized Reference Screen with all the information from the book in a nice searchable format
Basic Ruleset functionality
Custom skin and theme
Character Sheet - with drag and drop support and auto-roll functionality for numerous checks
Combat Tracker - to facilitate combat and track NPC and PC health and conditions
Fights - combine multiple NPCs into a Fight encounter ahead of time
NPCs - drag them from a supported library module or create your own for use in stories or fights
Screens - place any image from the web or from a module into your campaign image folder for use in a story or to share with players when the time is right
Notes - track important details as your campaign unfolds
Story - create your own story outline and links to other stories, NPCs, fights or images or follow along with a pre-made store-bought module when they become available. Export your module for others to play.
The Net - access your Hero's Handbook or other home-made or store-bought modules when they become available
Token box - store any token images you find into your campaign token folder or within your general fantasy grounds token folder and link those with your NPCs and Player characters for use on maps. You can build your own or purchase them from the Fantasy Grounds store for activation within your campaign. Search the forums for lots of free and useful tokens and tips on making your own.
This product is an installable module and ruleset for use with the Fantasy Ground II virtual tabletop. It allows the creation of a new campaign type for Mutants & Masterminds.
Writing and Design: Steve Kenson
Editing and Development: Jon Leitheusser
Additional Design: Ray Winninger
Art Direction and Graphic Design: Hal Mangold
Publisher: Chris Pramas
Fantasy Grounds Conversion: Alberto Zaldivar
Fantasy Grounds QA and Installation: Doug Davison

Requirements: A Full or Ultimate license of Fantasy Grounds
© 2012 Green Ronin. Mutants & Masterminds and all related marks and logos are trademarks of Green Ronin. All rights reserved. Used with permission. © 2012. All Rights Reserved.
This product is Copyright 2012, SmiteWorks USA, LLC. Used under license from Green Ronin. This product's format, programming code, and presentation is copyrighted by SmiteWorks USA, LLC. Redistribution by print or by file is strictly prohibited.
Released on June 24, 2012
Designed for Fantasy Grounds version 2.9.9 and higher.
Screenshots
GRR5501eFG2