Token Pack 96: Orcs
Devin Night
---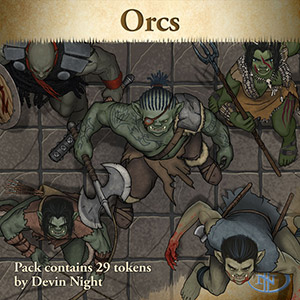 This product is part of a bundle. Complete the set and save on all bundled products you don't already own and all future additions to the bundle.
Devin Night Token Bundle Set 3
Token Pack 96: Orcs
Just Orcs.
This Token Pack includes:
Black Orc
Half Orc Bruiser
3 Orc
2 Orc Archers
Orc Bloodrager
Orc Brawler
Orc Chieftan
Orc Female Jungle Cleric
Orc Female Merchant
Orc Gladiator
Orc Jungle Chieftan
Orc Jungle Female
Orc Jungle Fisher
Orc Mounted Archer
Orc Mounted Spear
Orc Oracle
Orc Ranger
Orc Ripper
Orc Shaman
Orc Sorcerer
3 Orc Warriors
Orc Worg & Rider
Orc Arher
Requires: An active subscription or a one time purchase of a Fantasy Grounds Full or Ultimate license and any ruleset.
Some artwork copyright © 2017 Devin Night. All Rights Reserved.
Fantasy Grounds is a trademark of SmiteWorks USA LLC. © 2017 SmiteWorks USA LLC. ALL RIGHTS RESERVED.
Released on October 05, 2017
Designed for Fantasy Grounds version 3.2.2 and higher.
Screenshots
DNFGANYTPO