Token Pack 93: Hybrids 2
Devin Night
---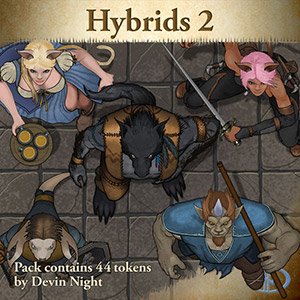 This product is part of a bundle. Complete the set and save on all bundled products you don't already own and all future additions to the bundle.
Devin Night Token Bundle Set 3
Token Pack 93: Hybrids 2
This Token Pack includes:
Cat Barmaid
Cat Merchant
4 Female Cat Persons
Female Half Giants
Female Half Giant Warrior
Female 2 Mouslings
3 Female Rabbitlings
Female Rabbiton
Female Rabbiton Archer
Female Rabbiton Mage
Female Ration
Female Ration Warrior
2 Female Werewolfs
2 Lions
2 Lionesses
Bunny Bard
5 Male Cat Persons
2 Male Half Giants
3 Male Rabbitlings
2 Male Rabbitons
Male Rabbiton Fighter
Male Ration
Male Ration Dragoon
2 Male Werewolves
Requires: An active subscription or a one time purchase of a Fantasy Grounds Full or Ultimate license and any ruleset.
Some artwork copyright © 2017 Devin Night. All Rights Reserved.
Fantasy Grounds is a trademark of SmiteWorks USA LLC. © 2017 SmiteWorks USA LLC. ALL RIGHTS RESERVED.
Released on October 05, 2017
Designed for Fantasy Grounds version 3.2.2 and higher.
Screenshots
DNFGANYTPH2