Devin Night Token Pack 141: Heroic Characters 28
Devin Night
---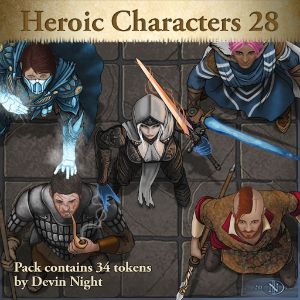 This product is part of a bundle. Complete the set and save on all bundled products you don't already own and all future additions to the bundle.
Devin Night Token Bundle Set 4
Devin Night Token Pack 141: Heroic Characters 28
Dark Paladins, Blade Singers, Cryomancers and more! This pack of heroic adventures gives you 34 tokens of male and female humans ready to support your adventuring team on their next epic quest!
This product contains:
Female Human Cleric Death
2 Female Human Dark Paladins
Female Human Fighter
Female Human Sorceress Frost
Female Human Wildmage
Male Human Barbarian
Male Human Bladesinger
3 Male Human Commanders
2 Male Human Commoners
Male Human Cryo Barbarian
2 Male Human Cryomancers
Male Human Cryomonk
Male Human Elemental Monk
Male Human Hunter
Male Human Loremaster
Male Human Paladin Judge
2 Male Human Pirates
2 Male Human Punishers
Male Human Puppetmaster
2 Male Human Rogue Blades
2 Male Human Trappers
Male Human Warrior
Male Human Wizard
Male Human Young Lord
Adapted for Fantasy Grounds by:   James Holloway
Requires: An active subscription or a one time purchase of a Fantasy Grounds Full or Ultimate license and any ruleset. Compatible with Fantasy Grounds Unity or Fantasy Grounds Classic
Token pack artwork copyright (C) 2021 Devin Night. All Rights Reserved.
Released on September 15, 2020
Designed for Fantasy Grounds version 3.3.7 and higher.
Screenshots
DNFGANYTP141