Devin Night TP130: Heroic Characters 26
Devin Night
---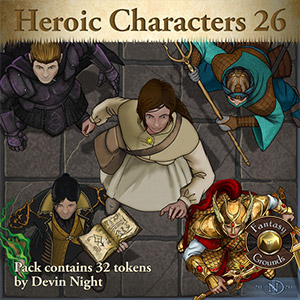 This product is part of a bundle. Complete the set and save on all bundled products you don't already own and all future additions to the bundle.
Devin Night Token Bundle Set 4
Devin Night TP130: Heroic Characters 26
TP130 Heroic Characters 26, This pack contains 32 hand-drawn and colored tokens of human characters, NPC's or PC's.Suitable for most fantasy settings.
Female, Human Claw
Female, Human Swordmaster
Female, Human Cleric
Female, Human Healer
Female, Human Monk
Female, Human Priestess
Female, Human Ranger
Female, Human Samurai
Female, Human Silver Paladin
Female, Human Sorceress
Female, Human Young Witch
Male, Human Royal Knight
Male, Human Bard Fancy
2 Male, Human Cleric Black
2 Male, Human Cleric Silver
2 Male, Human Knight Sword
2 Male, Human Neptune Knight
Male, Human Rogue Black
Male, Human Sorcerer Youth
Male, Human Storm Cleric
2 Male, Human Warlock
Male, Human Young Wizard
2 Mounted Mercenary
Mounted Princess
2 Mounted Heavy Mercenary
Converted by:   James Holloway
Requires: An active subscription or a one time purchase of a Fantasy Grounds Full or Ultimate license and any ruleset.
Token pack artwork copyright (C) 2021 Devin Night. All Rights Reserved.
Released on March 24, 2020
Designed for Fantasy Grounds version 3.3.7 and higher.
Screenshots
DNFGANYTPHC26